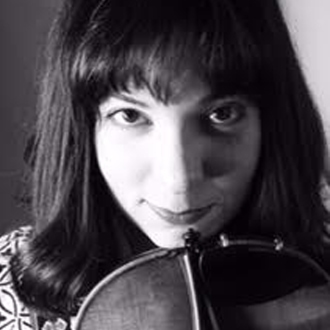 Amy Beshara
violin, fiddle
Inquire About Lessons
Amy taught her first violin lessons when she was 17 years old and still in high school. She has maintained a studio of 30-50 students on violin, viola, fiddle, piano, voice and guitar for the past 15 years.
She holds many certifications in different methodologies and continues to further her teacher education whenever possible. Trainings and certifications include: O'Connor Method at the Ashokan Center, NY and Charleston, SC, the Suzuki Method at L'institut Suzuki Montreal, Louise Montello's Performance Wellness at New York University and the New School University, Dalcroze Eurhythmics at Lucy Moses School, NYC, Music Together in Princeton, NJ, and the Paul Rolland Method at George Mason University, Fairfax, VA. Amy is a registered Vinyasa and Yin yoga teacher and her knowledge of anatomy and movement informs her violin teaching and practice.
Amy's teaching style is geared towards helping students achieve technical proficiency in the healthiest way possible, while equipping students with a lifelong love of music, confidence in their own performance and practice, appreciation of the work of others, and an understanding of their unique role in society as musicians, as well as how to function in and create a supportive community of musicians.
In a nurturing, non-threatening or judgmental environment, lessons are geared to give students musical fluency, the ability to learn music by ear, well as foster music literacy, musical "grammar", and improvisational skills. Studies are well rounded by developing an experience and exploration of the creative processes of making music, knowledge of the differing bodies of music across the globe and throughout history, and developing healthy attitudes towards their craft while learning to push themselves beyond their own boundaries so that they learn to become self-sufficient musicians who can undertake their own learning and work in whichever direction they might choose.
Amy's students have attended Luzerne Music Center, Interlochen Arts Academy, O'Connor Camp, and have participated in Youth Orchestras of Essex County, the New York Fiddle Contest, Howell Farm Fiddle Contest, NJ Fiddle Contest at Sussex County, the Celtic Classic fiddle contest, and the Oxford Fiddle and Banjo Contest. Amy's students have performed at the Glen Ridge Community Center, Paddy Reilly's Music Bar, Trend Coffeehouse, Montclair Public Library, Montclair Farmers' Market, Make Music Day Montclair, Watchung Booksellers, and Union County Performing Arts Center-Hamilton Stage. Past students have gone on to study music at their colleges and universities, becoming music majors, and forming music clubs on their campuses.