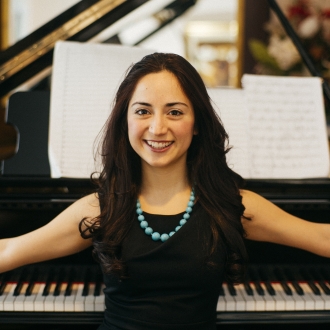 Cindy Giron
Piano, keyboard, digital music production
Inquire About Lessons
Cindy Giron is a dedicated music educator born and raised in the suburbs of Boston, with Guatemalan and Spanish heritage. She teaches piano, music theory, composition, and electronic music production private lessons and group classes, in addition to general music classes. With more than 10 years of teaching experience, she believes everyone learns music via personalized guidance in listening and feeling by the virtue of practice and reflection.
Cindy's music education started at the early age of five, with thorough classical music instruction throughout her formative years at the New England Conservatory Preparatory School of Music; studying piano, composition, theory, chamber duo/ensemble, orchestral performance, and participating in Boston's prestigious piano seminar led by A. Ramón Rivera. She continued higher music education at the Manhattan School of Music where she studied a Bachelor of Music, majoring in Music Composition and minoring in Piano Performance. She has earned two masters degrees, one in Music Theory and Composition from New York University, Steinhardt School of Culture, Education, and Human Development; and another from The Royal Conservatory of the Hague, in Practice-Based Research, with a focus on composing with silence, while also minoring with contemporary piano performance. What's more, while living abroad in the Netherlands, she studied the 'One-Year Course Programme' at the Institute of Sonology, combining composition and piano performance with the addition of electronic music studies; learning music programming, acoustics, analog synthesis, installation design, and the art of improvisation.
As a teacher, Cindy believes that one size does not fit all. Her intention is to tailor a pupil's progression gradually in a natural way. She has pedagogical training in:
*Eurhythmics – Valuing improvisation, the use of rhythmical and physical movements to learn music, and ear-training games, created by Émile Jacques-Dalcroze.
*Musical Aurora – a method similar to eurythmics, emphasizing solfege and listening games, created by Claudette Munné.
*Keys for Kids – an intensive group keyboard method in which students are encouraged to learn both listening and reading patterns, created by Inga Y. Magid.
*Waldorf education (also known as Steiner education) – a pedagogical approach in which educating a pupil is approached holistically, so as to integrate the intellect, the artistic, practical and psychological; created by Rudolf Steiner.
When she is not teaching, you may see Cindy as a multifaceted musician and human — she is a pianist, composer, electronic sound artist, installation designer, poet, sound healer, cyclist, and yoga instructor.