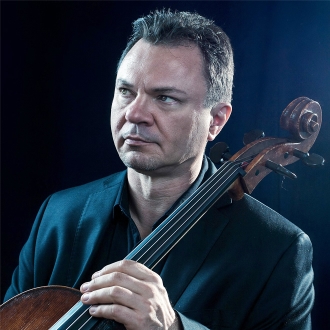 Darry Dolezal
Cello, Suzuki cello
Inquire About Lessons
An international concert artist, cellist Darry Dolezal has performed solo recitals, concertos, orchestra concerts and an abundance of chamber music in venues ranging from Carnegie Hall in New York to the Copacabana Palace in Rio de Janeiro. Currently he performs and tours with the Thoreau Piano Trio. Previous chamber ensembles include the EOS Ensemble, the Artaria Quartet (Quartet-in-Residence at Boston College and Viterbo University), the Esterhazy Quartet (Quartet-in-Residence at the University of Missouri) and the Concordia String Trio.
Since recently relocating to the Boston area from his faculty position at the University of Missouri, he has performed with several local ensembles including the Boston Landmarks Orchestra, the Boston Modern Orchestra Project and the Cape Symphony.
Darry Dolezal received degrees in cello performance from the University of Kansas and the Peabody Conservatory of Johns Hopkins University. He studied chamber music with Leon Fleisher, Eugene Lehner, Menachem Pressler, Alexander Schneider, Karen Tuttle and members of the American, Cleveland, Guarneri, Juilliard and Muir Quartets.
Teaching Statement
"Making music is an activity which completely engages and nourishes your whole mind and body and is about expression, movement and growth. It's an art form which is alive.
I have worked with the very young and the very old, from beginning students to professional musicians. I emphasize beautiful and effortless technique grounded in physics and physiology, with a deep understanding of musical expression. I invite students to ask and answer their own questions, training them to eventually solve problems on their own.
I was the cello professor of two universities and have presented masterclasses at major universities and conservatories in North and South America. My early training as teacher came when I became the apprentice of master Suzuki teacher Eleanor Allen, one of the first generations of Suzuki teachers in America and a student of Shinichi Suzuki himself. Since then I have maintained a private studio of students of all ages and levels, both Suzuki and non-Suzuki."