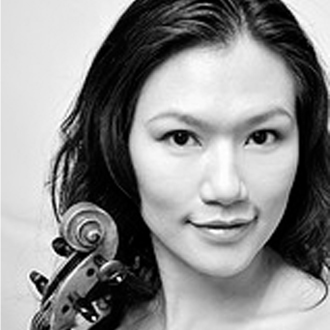 Guan-Ting Ku
Suzuki violin & viola
Inquire About Lessons
Guan-Ting Ku teaches violin and viola in the Suzuki program at Powers Music School. Ku is a Boston-based performer and teacher. She started playing piano at the age of four and violin at six. Ku completed the degree of Bachelor of Music Education at National Taipei University of Education with Prof. I-Chun Hsieh in Taipei, Taiwan and received the second prize in art performance at graduation in 2006. Ku then studied with Eric Rosenblith and accomplished the Master of Music Degree at Longy School of Music in Boston in 2008. She completed her Doctor of Musical Arts degree under the direction of Drs. Theodore Arm and Eric Rice at the University of Connecticut, where she also served as Graduate Assistant for the Symphony Orchestra and chamber music program. In addition to her study of modern violin, she studies Baroque violin with Cynthia Roberts from Juilliard School of Music. She had worked with Pamela Frank, Chikashi Tanaka, Lynn Chang and Nai-Yuan Hu, Pacifica String Quartet, Ying String Quartet, and Orion String Quartet.
Ku regularly performs as a soloist, chamber musician, and orchestra player ranging repertoire from 12th century to the living composers on period instruments. Her performances have brought her to New York City, Seattle, Pittsburgh, San Francisco, France, Canada, New Zealand, and Taiwan. Ku's chamber and orchestra experiences include concertmaster of Seven Hills Symphony Orchestra, second principal of Brockton Symphony Orchestra, summer institutes of Tafelmusik Baroque Orchestra and American Bach Soloists, as well as groups such as La Donna Musicale, Boston Camerata, Cappella Clausura, Newton Baroque, Grand Harmonie, Cape Cod Symphony, Harvard Baroque Chamber Orchestra, New England Conservatory Early Music Society, and Yinqi Symphony Orchestra & Chorus. In addition, she has served as string coordinator of Park Street Church Orchestra in Boston since 2013.
Guan-Ting Ku is passionate about string education using both Suzuki and non-Suzuki methodologies. She is a trained Suzuki Method instructor for violin Book 1-10. She held a graduate assistanceship working at the Community School of the Arts at University of Connecticut and at the Rectory School in Pomfret, CT. She is experienced working with students from 3-year-old to college students. She also teaches private lessons using the Suzuki Method and has successfully taken beginners though the first stages of learning an instrument to the development of foundational knowledge with the help of their parents. Her students have succeeded in auditioning for music department at University of Connecticut, and many secondary students have been accepted into honor orchestras at Eastern Region Music Festivals (CT), New England Music Festivals and All-State Music Festivals (CT), MMEA Eastern District (MA).