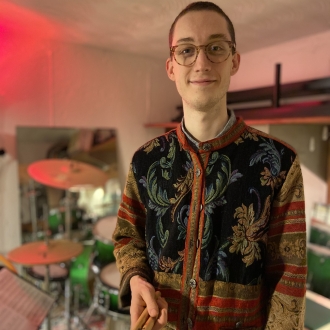 Inquire About Lessons
(He/him)
Percussionist & Composer James Davis joined the Powers team in January of 2023. With musical experience ranging from heavy metal to jazz, James is comfortable teaching and exploring a wide array of styles on the drum set. His passion for teaching stems from having studied with master teachers like Thomas Arey, Bob Gullotti & Ralph Peterson. James treats lessons as an homage to his mentors who gave him so much.
After graduating Summa Cum Laude from Berklee College of Music, James has gone on to play drums for Fuming Mouth (Nuclear Blast Records) and leads his own band No Arbiter.
Fun Facts
I started playing drums after seeing Jack Black's School of Rock.
I have a growing obsession with Star Wars.
I think cheeseburgers are a superfood.