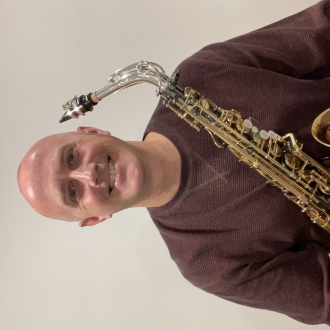 Inquire About Lessons
(He/him)
Saxophonist, Ken Gable, originally from Andover, MA, began his professional career in Boston. A graduate of Berklee College of Music, Ken has performed with such notables as Wynton Marsalis, David Sanchez, Michael Philip Mossman, Herb Pomeroy, Alan Dawson, Victor Mendoza, Sal Cracchiolo, Steve Cotter, and Lee Thornburg. Ken recently played with the MVPs who shared the stage with such artists as Kelly Clarkson, The GoGo's, Tom Jones, and Santana.
Receiving his undergraduate in Music Education at Berklee College of Music, Ken has taught all levels in schools in Massachusetts, New York, and California. He has also taught in the Jazz Programs at Queens College and St. John's University. In addition to teaching, Ken has adjudicated the Alhambra High School Jazz Festival as well as the SCSBOA Honor Band for southern California. While teaching at Lexington High School, he directed the LHS Jazz Ensemble and Combo which was accepted to the Charles Mingus Jazz Festival. In 2012 both groups placed first in their division. Ken was also the Jazz Ensemble Director for the 2019 Senior SEMSBA Festival.
Ken has strived to develop quality Fine and Performing Arts programs in many schools and co-chaired with an organization called Arts for All. As co-chair, Ken developed a district-wide arts policy and strategic plan to provide music, visual art, dance, and theatre to all students in the Wiseburn School District. Most recently, Ken was the 9 – 12 Music Department Chair for the Walpole Public Schools and directed the Concert Band, Marching Band, Jazz Ensemble, and World Drumming. He also started up the Music Production program teaching courses using GarageBand and Logic. Currently, he is teaching Band, Jazz, and General Music at Belmont Public Schools.