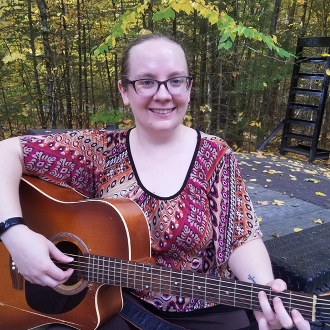 Krystal Bloom
Music Therapy Dept. Chair
Music therapy
Inquire About Lessons
(She/they)
Krystal has been a practicing board-certified music therapist since 2013. With a Bachelor of Music in Music Therapy from Berklee College of Music and as a Master of Social Work Candidate from the University of New Hampshire, Krystal approaches music therapy and lessons with a global lens and a person-centered approach that incorporates elements of different therapeutic theories, cultural humility, and nonjudgemental curiosity.
Krystal has experience working with a wide array of people, from ages 9 months to 102 years, and from all walks of life. While Krystal specializes in depression and anxiety, LGBTQAI+ issues, trauma, and community building, they also have extensive experience working with people who are neurodiverse, people with learning disabilities, people with traumatic brain injuries, and people living with Parkinson's Disease.
Fun Facts
– I play 10 unique instruments and seem to add a new one every year.
– I adore reading fantasy and science fiction books
– I am always incorporating diverse people into my Dungeons & Dragons games.