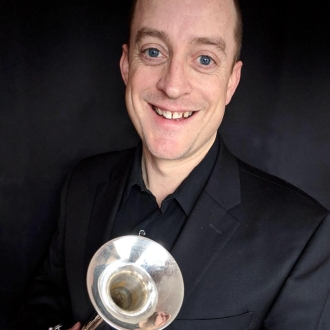 (He/him)
Mark Emery serves as principal trumpet of Vermont Symphony where he has performed as a soloist in Vivaldi's Concerto for Two Trumpets, Barber's Capricorn Concerto, and Shostakovich's Concerto for Piano (and Trumpet) under Jaime Laredo with celebrated pianist Gloria Chen. Additional positions include second/assistant principal of Vista Philharmonic (MA), and principal of Opera North Orchestra (NH). He has performed solo roles with Lake Champlain Chamber Music Festival, White Mountains Chamber Music Festival, Dartmouth University, and New England Conservatory's First Monday series and Callithumpian Consort, and has been a frequent performer with Back Bay Chorale and Odyssey Opera.
Mark's early orchestral experience came from playing as a substitute for the Oregon Symphony under James DePreist, including many masterworks series, tours and the recording of Respighi's Pines of Rome and Fountains of Rome for the DELOS label. He toured internationally with Star Wars in Concert, hosted by Anthony Daniels, of C3PO fame, and also has traveled the country with the Boston Pops Esplanade Orchestra under Keith Lockhart, and with the Boston Symphony to Carnegie Hall and Tanglewood under both James Levine and Andris Nelsons.
Since attending New England Conservatory as part of the Honors Brass Quintet, Mark has performed with Boston Ballet, Boston Symphony, Boston Pops, Albany Symphony, Rhode Island Philharmonic, Portland (ME) Symphony, Odyssey Opera, Cape Symphony, New Bedford Symphony, National Symphony (DC), Colorado Springs Philharmonic and Charleston Symphony (SC).
Mark's work as a substitute/extra with the Boston Symphony includes many performances at Symphony Hall, Carnegie Hall, and Tanglewood under multiple music directors. With the Boston Pops, Mark's experiences include many national tours, Fourth of July broadcasts, MLB and NHL World Series and Playoff performances, and multiple appearances on PBS Great Performances. Mark recorded with the Boston Pops Brass under John Williams for the 100th Anniversary of Fenway Park and has also represented the Boston Pops in news broadcasts, chamber music performances, and in private events around the country with the Boston Pops Swing Orchestra.
Mark is also active as a chamber musician and is currently a member of Bala Brass. He gave celebrated performances of Stravinsky's L'Histoire du Soldat with Providence Ballet, as well as with members of the Boston Symphony for Jordan Hall's "First Monday" series and will soon perform a series of the same work at Dartmouth College. Mark performed alongside Branford Marsalis as a soloist at the White Mountain Chamber Music Festival and has recorded the music of John Zorn and Iannis Xenakis with Callithumpian Consort, under pianist Stephen Drury. He has performed with Empire Brass Quintet and has performed and recorded with Huntington Brass, Triton Brass, Innovata Brass, and New England Brass ensembles.
Mark teaches at Tufts University in Medford, MA, and in the Wayland, MA school system. His playing can be heard on the following labels: ARSIS AUDIO, DEUTSCHE GRAMMOPHON, DELOS, BRIDGE RECORDS, MODE RECORDS, and STILLWATER DIGITAL.