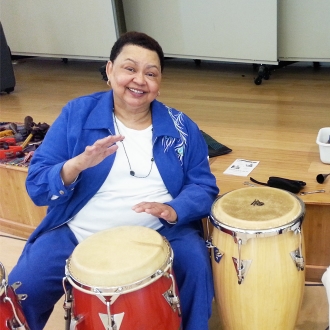 Nurudafina Abena
Afro-Caribbean drumming, percussion
Inquire About Lessons
Nurudafina Pili Abena, oral traditionalist, teacher and musician, has developed her skills for over thirty years. She studied drumming as a child with Master drummer Babatunde Olatunji, as well as many masters of traditional folklore from Africa and Eastern origins.
She has performed and studied in West Africa (Senegal) and East Africa (Kenya) where she performed at the 1985 NGO International Women's Conference sponsored by the United Nations. Nurudafina has traveled to Cuba and performed throughout the United States. She has played at the prestigious Carnegie Hall, universities and colleges, churches, cultural festivals, and night clubs. In 1991 Ms. Abena performed with Master Drummer Olatunji and his Drums of Passion Troupe as the opening act for the Grateful Dead Band. Over fourty thousand people attended the event in California and the concert event was broadcasted on over one hundred radio stations nationally.
Nurudafina founded the Universal Vibrations School of Oral traditions in 1976. Currently she is working for the Neighborhood Network Center/CDF Freedom Schools Program. In addition Ms. Abena also works with the participants of the Golden Academy and the Parkinson's Health Program, at the Dance Complex. She teaches children in both public and private schools. She also teaches adults in her 1-year apprentice program.
Nuru is considered one of the original women elders and is respected internationally as a women drummer and teacher. She has trained many men, women and children in the traditions of afro folklore and cultural music. Many of her students are now performers and teachers of the drum. As a performer of traditional African, Afro Cuban, Caribbean, American Fusion and contemporary styles of music. Nurudafina has twenty recording credits playing on other artist's albums and CD projects. Her 1994 debut solo CD entitled "Drum Call" is available commercially on the ladyslipper recording label.
Nuru is a "Woman on a Mission", using drumming to unite people from diverse background and to dispel the mystery surrounding African music and diaspora cultural folklore.