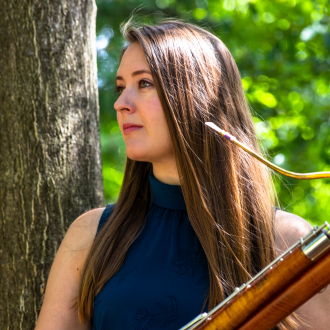 Rachel Juszczak
SMMS bassoon, SMMS oboe
Inquire About Lessons
In a world with such high expectations and stressors, Rachel Juszczak believes that a passionate, honest, and positive teaching style is essential to helping a student succeed.
Rachel is the second bassoonist with Boston Lyric Opera and Cape Symphony. As an active freelancer, she has performed with the Rhode Island Philharmonic, Vermont Symphony, Opera Maine, Symphony New Hampshire, Orchestra of Indian Hill, Lexington Symphony, and other ensembles in the New England area. In addition to orchestral work, Rachel has been a finalist in both the Arriaga (Stamford, CT) and Coleman (Pasadena, CA) Chamber Music Competitions, is a member of the New England Chamber Players, and has collaborated with other local chamber ensembles including the New Bedford Symphony Wind Quintet, the Plymouth Symphony Wind Quintet, and Atrium Winds.
Rachel currently teaches at Powers Music School, is the bassoon instructor at the Cape Conservatory, Instrumental Music School of Concord & Carlisle, David French Music Company, and Fay School. She is on faculty at Westfield State University and is the Bassoon Workshop Assistant at the Boston University Tanglewood Institute. Previously, she taught non-degree lessons at Boston University and beginning-advanced lessons through the Butler Community Arts School located in Indianapolis, IN. She holds a Master of Music degree and a Performance Diploma in bassoon performance from Boston University and earned her Bachelor of Music degree in bassoon performance from Butler University, Indianapolis. Her principal teachers include Richard Ranti, Suzanne Nelsen, and Dr. Doug Spaniol.
To Visit Rachel's Website: https://www.racheljuszczak.com/