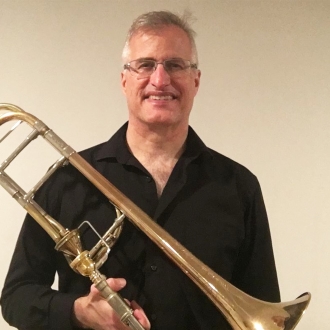 Walter Bostian
trombone, tuba, euphonium, low brass
Inquire About Lessons
Walt has played for the Boston runs of many Broadway national tours at the Boston Opera House, Colonial Theater, and Wang Center including The Lion King, Wicked, Spamalot, Aladdin, Book of Mormon, Beautiful, and many others.  He has also played multiple runs of musicals at Boston's Huntington Theatre Company and the American Repertory Theater in Cambridge.  He is President of the Boston Theater Musician's Association.
In addition, he has performed with Boston Ballet, Boston Lyric Opera, Boston Modern Orchestra Project, Rhode Island Philharmonic, Portland Symphony Orchestra, Orchestra of Indian Hill, and Lexington Symphony.
In the commercial world, he has performed with artists such as Johnny Mathis, Aretha Franklin, Frankie Valli, The Temptations, The Four Tops, and Bernadette Peters.  He has toured internationally as a member of Bim Skala Bim and Bellevue Cadillac.
He holds a Masters Degree with Honors from the New England Conservatory where he was a student of John Swallow.  Other teachers include James Olin and Per Brevig.