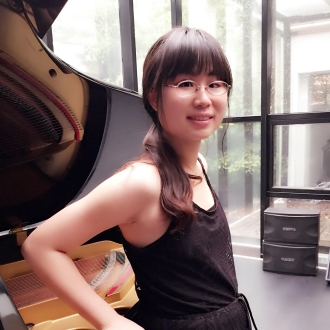 Inquire About Lessons
Born in Shanghai, China, an international city, Xingyu grew up within a large variety of cultures and heritage. She developed a natural interest in both Eastern and Western philosophy, history, medicine, and arts.
She began her classical piano training at five and taught her first private student at the age of 16. After coming to Berklee in 2014, She has studied Jazz and other contemporary music styles with Laszlo Gardony, Kenny Warner, Victor Wooten, Donna McElroy, Jerry Leake, to name a few. She holds a BA summa cum laude in Music Therapy from Berklee College of Music and a BS in Applied Psychology (mental health counseling specialization) from East China Normal University.
She has extensive professional training and working experiences using multiple expressive arts modalities with clients ranging from newborns to older adults, with a family-centered experiential approach.
She has created and presented original music therapy interventions at the Passage and New England Regional Music Therapy Conference when she received an invitation to further develop her method into a Continuing Music Therapy Education (CMTE) course.
Her mission is to support her students, clients, and audience to remove obstacles from their lives, find their unique voices, express themselves freely, reach their goals, become an authentic person, and build communities in which everyone can thrive.
She is trilingual, fluent in Shanghainese, Mandarin, and English.
She is thrilled to join Powers in 2019 and looking forward to meeting perspective students/clients.
To find out more about her, please check out her website: cherubxingyu.com