With the school year coming to a close, we wanted to shine a spotlight on our amazing seniors. Thank you for letting us be a part of your musical journey, good luck with your future endeavors!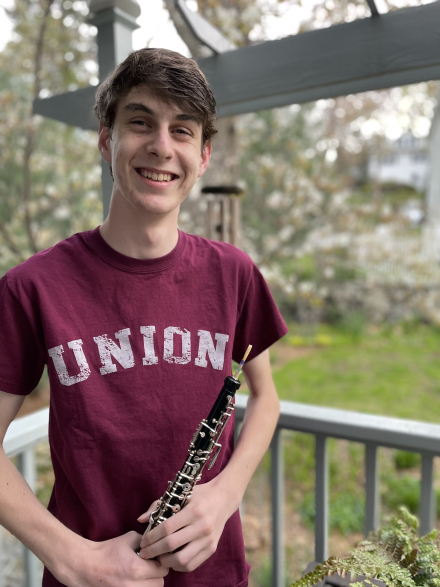 Shane, an oboe student with Mary Cicconetti, is graduating from Arlington High School and heading to Union College in the fall. Shane shared his experience with us, saying "Coming to Powers was different since I mostly played solo. I was so nervous to play at my first recital, I was in 7th grade, but Mrs. Cicconetti gave us all a pep talk right before we had to play, and that calmed me down. I did great! AND I had a lot of fun with it!!"
Prior to joining Powers Music School in the sixth grade, Shane played oboe in the Peirce Elementary and Ottoson Middle School's band and then continued to play in the Arlington High School Concert Band. Shane will continue to play his oboe recreationally and hopes to find new people to perform with at Union. Shane's mom, Cate, said, "We'll be forever grateful to Powers and to Mrs. Cicconetti for their encouragement and leadership. Thank you for 6 years of music!"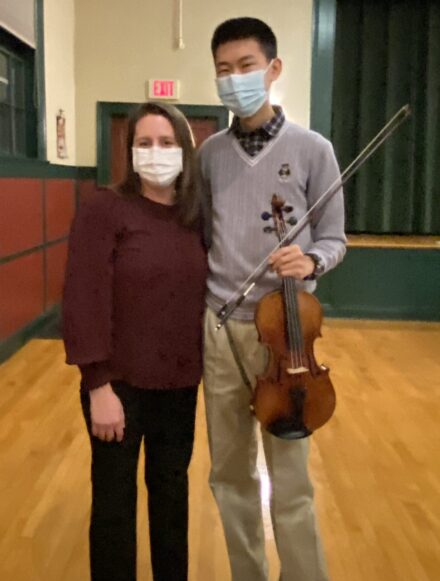 Kenneth, one of Violin Teacher Sarah Bacon's first students at Powers, is graduating from Belmont High School and heading to the University of Illinois Urbana-Champaign to study computer science. Kenneth's mom, Qing, shared his musical journey with us, saying, "He started learning violin with Sarah at Powers when he was 6 years old, after attending an instrument petting zoo, and has been part of Powers family since then. Besides continuing to enjoy learning from Sarah, Kenny has also played violin as a part of the Massachusetts Youth Symphony Project, Music on the Hill, and Boston Youth Symphony Orchestras, where he has a lot of great memories. Kenny also plays the tuba with the Belmont High School Wind Ensemble, and Sousaphone in the BHS marching band. One of his favorite moments was when he reunited with Ms. Pollack for his violin recital after she retired from Burbank Elementary School. Because he is not pursuing a music major, one of his criteria in choosing colleges was that they have strong intramural music programs for non-music major students to participate in. Kenny is grateful to Sarah for making violin practice an enjoyable experience and for her mentoring and friendship all these years. He will continue playing violin as a hobby."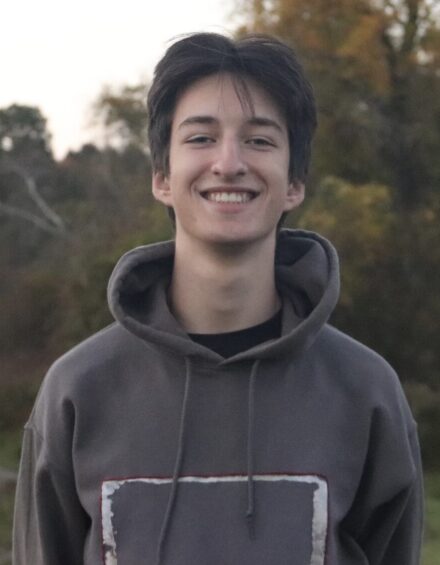 Andrei, a piano student studying with Anna Soukiassian and an honors student at Belmont High School, is heading to McGill University in the fall to study economics. Andrei's mom Lulia said, "Depending on his mood, Andrei might be listening to music on his phone or jogging with his younger brother, also a Powers student."
Andrei wanted to share a message to his musical support system, saying, "Thank you to all of my Powers teachers and especially to Mrs. Soukiassian for believing in me and pushing me harder than anyone else to improve. Thank you to my parents for supporting my piano endeavors since first grade."
Andrei's teacher Anna said about him, "When a student says they wish to pursue their instrument in college because they want to keep up with their skills, you know this student is taking something very valuable with him, and that's the curiosity in deepening their knowledge and the passion for music. It made my day when I heard it stated by Andrei. He has been a great joy to work with! I wish him the best of luck as he moves on to the next level of his endeavors!"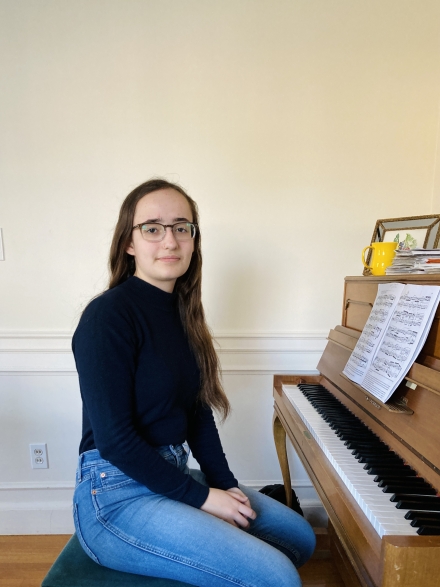 Marguerite, a piano student with Svetlana Krasnova, is graduating from Belmont High School and heading to the Massachusetts Institute of Technology (MIT) in the fall. Her mom, Fleur, reminisced on their time at Powers, saying "I have loved her time with Svetlana when she started playing a lot of piano every day. We appreciated the in-person concerts and missed them during the pandemic. Thanks to Svetlana, she also started fencing in Cambridge, a nice complement to her musical education. She intends to pursue the piano and hopes she'll have time. For sure, I'm going to miss it!"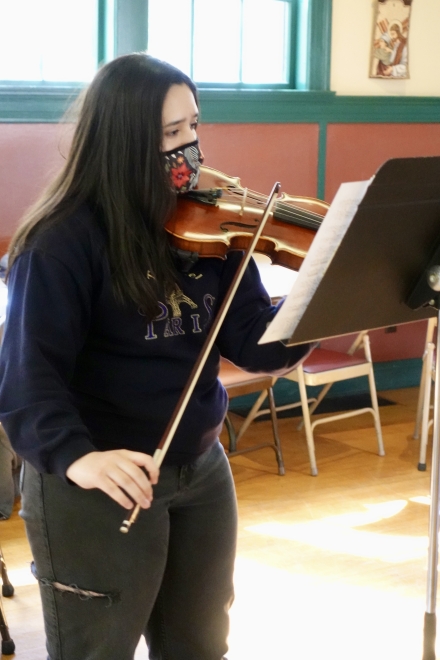 Ariana, a violin player in the Powers Youth Orchestra chamber group and a private lesson student with Morgan Scagliotti, is graduating from Lexington High School and heading to Northwestern University in the fall. Ariana has been playing violin since she was six years old and plans to continue in college, picking up a music minor with her chemical engineering major.
Violin Teacher Morgan sends her wishes, saying "Ariana has been a long-time student at Powers (her mother and brother as well) and is a very special musician. It's been great to have the family here, congrats!" Her chamber group director, Job Salazar Fonseca, also sends his congrats, saying "Ariana has been a violin student at Powers for some years and got into several great colleges. She is awesome and has some interesting things on the horizon, congrats and good luck!"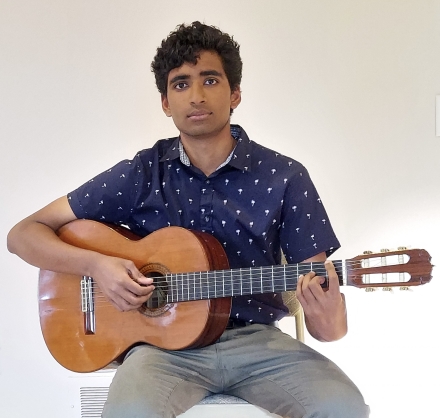 Keshav, a guitar student for over 10 years, and soon to be Lexington High School graduate, is heading to Brandeis University in the fall. Keshav has been taking lessons with Dan Acsadi, saying "he is a great teacher who not only taught me how to be a better guitar player but taught me other life lessons as well. Whenever I come into Powers for my lesson, I feel as if I entered a new world, with all the growing musicians and music I hear around me. One of my favorite parts of Powers is the recitals at the end of the semester. They allowed me to showcase to others what I have learned throughout the semester. I am looking forward to pursuing my future music opportunities with the great foundation Powers Music School has created for me!"
Dan sends his well wishes to Keshav, saying "I'm so proud of Keshav's musical progress, persistence, and accomplishments! It has been a joy seeing Keshav move from a few open strings, to essential classical etudes, and finally to exciting concert repertoire. During a time when students seem to get busier and busier, Keshav even added jazz guitar skills to his resume to become a truly well-rounded musician."