The Festival is open to solo, piano duo, four-hand, six-hand, and eight-hand ensembles in grades K-12. We highly encourage ensembles!
The 2020 Mildred Freiberg Piano Festival will be held…
Friday, March 27 – Sunday, March 29
NEW Location: First Armenian Church, 380 Concord Avenue, Belmont
Concert times at 1:30 (Saturday only), 3:00, 4:30, 6:00, 7:30 pm
(Students will be placed based on age, level, and if there are any siblings. Evening 7:30 pm concerts reserved for advanced students.)
How to Apply
Teachers: Please review all of the festival guidelines below with your students and their parents. To submit your student's infomation, click the "Submit Application" button below, then completely fill out the form before pressing "Submit." After completing the form, please be sure to pay the application fee, if applicable.
APPLICATION DEADLINE
Received by Monday, March 9, 2020
(We strongly encourage you to apply online to ensure that all of your information is received quickly and accurately. If for some reason you need a paper copy, please call Daniel Acsadi at 617-484-5750.)
Application Fee: The $25 application fee is required for EACH non-Powers performer. There is no fee for any currently registered Powers students or any 2020 Concerto Competition applicants. If all performance slots fill up and we can no longer accept any additional performers, this fee will be returned to you. To pay the application fee, click the "Pay Application Fee" button below, click the Powers logo, click the blue "Add to Cart" button in the pop-up window, click the green "Checkout" button, fill in your contact and card information, then click the green "Place Order" button to finish.
Festival Guidelines
Total playing time must not exceed: 5 minutes for beginner students; 7 minutes for intermediate students; and 10 minutes for advanced students. A maximum of 2 pieces of music may be performed. Each movement from a larger work counts as a selection. Repertoire should be selected from standard recital pieces. Students may not play selections from method books!
Memorization is preferred, but not required. Photocopies of music are not allowed.
The application fee is required for EACH performer – $25 for non-Powers students. There is no fee for currently registered Powers students or any 2019 Concerto Competition applicants. If all performance slots fill up and we can no longer accept any additional performers, this fee will be returned to you.
Please request a first choice performance date that works best for you and your instructor. Understand that you should be available to accept any assigned time on that date. Performance slots are assigned on a first-come, first-served basis – Powers cannot grant any requests for specific performance times on the chosen date. No exceptions or changes for extracurricular activities, sporting events or other conflicts.
Performers are required to check in no later than 15 minutes prior to the start of their concert. Students who arrive late for the concert may not be able to perform. Performers must stay for the entire concert. Each concert will last approximately 1 hour. The concert will be followed by a reception.
As this is a special occasion, please look your best! Appropriate concert attire is required, as follows:
Ladies: Dress, skirt, or dressy pants with blouse or nice top.
Gentlemen: Dress pants and button-down shirt with tie. Jackets or suits are appropriate but not required.
Jeans, t-shirts, shorts, and sandals are not permitted.
If you have questions, please contact Dr. Daniel Acsadi, Director of Music, at 617-484-5750.
Performances are coordinated in the fairest manner possible, providing an opportunity for students to enjoy the company of performers from other schools and studios. We will do our very best to keep your students in back-to-back concerts.
Teachers will be notified via email of the concert dates and times for their students beginning on Monday, March 16.
Join us for a special opening night concert!
Featuring Powers faculty members Kathryn Rosenbach and Svetlana Krasnova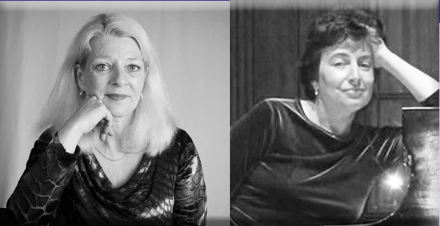 Friday, March 27, 7:00 pm
First Armenian Church, 380 Concord Avenue, Belmont
Tickets
General admission tickets to the opening concert are $5 per person. Children under 13 and currently registered Powers students and their families receive free admission but must still reserve seats.
Tickets may be purchased by first reserving your seat(s) using the button above, and then paying the $5 ticket fee (if applicable) from the confirmation page.
Performer Bios
Kathryn Rosenbach
Kathryn Rosenbach is known for her performances as a pianist, as well as choral conductor, composer and teacher. She was the Artistic Director for the Composers in Red Sneakers from 1994 until 2002. She has also been an active member of the chamber music community, playing with the Janus 21 Chamber Ensemble and the Avatar Ensemble, among others.
Ms. Rosenbach received BFA and MFA degrees from SUNY/Buffalo, an Artist's Diploma from the Accademia Musicale di Chigiana, and has pursued doctoral studies at the Eastman School of Music. She has also studied at the Chautauqua Institute, SUNY/ Fredonia, and the Cleveland Institute of Music.
Her performances have included premieres of Nancy Van de Vate, Yehudi Wyner, Lejarin Hiller, and Marlos Nobre. Her teachers have included David Burge, Leo Smit, Guido Agosti, Barbara Lister-Sink and Stephen Manes.
Ms. Rosenbach has taught at the Community Music School of Buffalo,SUNY/Buffalo, the Eastman School of Music, Nazareth College, the Longy School of Music, Simmons College, and is presently chair of the piano departments, teacher and chamber coach at the Powers Music School, the Lexington Music School, as well as the MOTH summer chamber program.
As a member of the U/B Percussion Ensemble, she participated in the recording of "Music for Six" by Lukas Foss on CRI under the direction of Jan Williams. In addition, she has recorded for the BBC, NPR, and PBS. In past years, she has produced two videos: "What Makes Music?" and "Explorations and Transformations."
She has released two studio recordings: "Exploring the Fantasy," and "Sights and Sounds of French Impressionism," available from CDBaby, iTunes, and others.
Ms. Rosenbach is the Music Director at the First Church in Chestnut Hill, Massachusetts and choral director and chamber music coach at the Music on the Hill Summer Chamber Camp. She is a BMI composer.
Svetlana Krasnova
Svetlana Krasnova received her Master's degree in Piano Performance and D.M.A. degree in collaborative piano from the Gnesin Academy of Music (Moscow, Russia).
Ms. Krasnova has performed as a soloist and chamber musician in Russia, Italy, Canada and the United States. While living in New York, Ms. Krasnova appeared in Carnegie Hall's Weill Recital Hall, and she was active as a collaborative pianist in Mannes College of Music and Manhattan School of Music. She participated as a collaborative artist in a number of music festivals including Weathershield Music Festival (Vermont) and Rome Opera Festival (Italy). As a member of a piano trio, Mrs. Krasnova performed in Ottawa (Canada). She performed as a guest artist in chamber music recitals at Kansas University at Lawrence, Minnesota School of Music, Roosevelt University, Chopin Festival (Chicago), De Paul University and Curtis Institute of Music.
Ms. Krasnova recently taught at the College of Du Page, while performing various recitals in the Chicago area, and began teaching in the Boston area in 2015.
Download & Share Concert Flyer
Want to pass along the concert information to your students or friends? Download a PDF here to print out and share:
About the Mildred Freiberg Piano Festival
Now celebrating its 57th year, this weekend-long celebration consists of multiple concerts and performances by students from all over the region.  This festival was the catalyst for the founding of our School in 1964 and has become a tradition for students in grades K-12. Over the years, the festival concerts have celebrated both a student's first performance and the exciting accomplishments of more mature artists. A variety of styles and teaching methods are presented through these performances in a non-competitive manner that stimulates the local music community.
In 2004, it was with great honor that we renamed this long-standing Belmont Piano Festival after Mildred P. Freiberg. Mildred Freiberg was a highly esteemed pianist, educator and mentor to many and was a former Powers Music School Board President and one of the founders of our School.