All the best musicians started with a goal.
You have a goal too – to play your favorite song, to be as good as the other students in your class, to be accepted into a conservatory program, to play alongside your son or granddaughter.
You might be thinking, is it worth the cost, the weekly battle in rush hour traffic to get to lessons, and the packed schedule?
Yes! Imagine how proud you'll feel when you or your child steps onto the stage and plays those first few notes. Picture all of the hard work and frustrations melting away with the first haunting chords on the piano, or the energy in the room as that fiddle tune begins. 
For that moment, it's absolutely worth it.
Our staff, faculty, and everyone at Powers are here to help you get started as soon as you're ready. We know the first step takes courage, but together we can make it happen.
Ready to start your journey?
Our Mission
Powers Music School provides the community with access to the highest caliber of music education programs, a nurturing and talented faculty, and outreach programs that foster a lifelong appreciation of music. Powers offers superior instruction and performance opportunities for interested students of all ages, in the belief that everyone has the potential to participate in, enjoy, create, and develop a lasting love of music.
Our Values
At Powers, we believe…
…that everyone deserves to experience the joy of music, and that it is essential to our lives.
…that everyone learns differently. With a range of programs to choose from, guidance from our friendly, trained instructors, and a customized approach to learning based on your unique challenges, talents, and skills, we know you can reach your goal.
…that community, compassion, curiosity, creativity, and commitment lift us up and bring us together.
We encourage you to reach further than you thought you could and to connect with others through private lessons, ensembles, orchestra, group classes, performances, festivals, and our community events. We hope the music you play and the community you share it with will bring you joy now and throughout your entire life.
Our History
The story of Powers Music School is one of passionate musicians and educators dedicated to bringing music opportunities to the community.
In the winter of 1964, key staff members from the newly formed Belmont Community Center met with local musicians, including Powers' five "founding mothers," to discuss ideas for bringing more music to the town. Over the next few years, the so-called "Music Committee" began offering private lessons, recorder classes, a junior orchestra and the town's first piano festival. The musical offerings continued to expand, and in 1974, the committee incorporated under the name of "Belmont Music School," receiving non-profit status just a year later.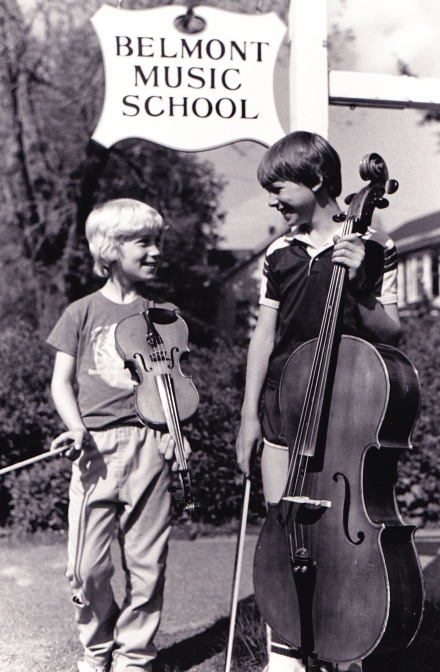 Many of the people initially involved with the committee and Belmont Music School stayed active in the school for years. Powers honors the commitment, leadership and achievements of:
Ellen Huff Powers – a "founding mother" and first Executive Director, for whom the school was renamed. Her passion for the viola da gamba lives on as Powers students use and cherish the instruments she donated to the school.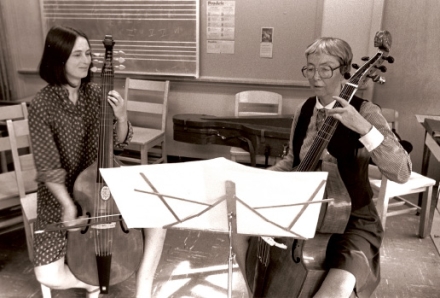 Mildred Freiberg – a "founding mother" and first Board President, for whom the annual Mildred Freiberg Piano Festival was renamed. Along with Margaret Duesenberry (also a "founding mother"), Mildred coordinated the Stein Chamber Music Festival, begun in 1974, to honor the memory of Joseph Stein, a local chamber music enthusiast. The Stein Festival is now coordinated by Mildred's daughter Sarah Freiberg Ellison, one of the first recorder students in 1964. Sarah now teaches cello at Powers, co-chairs the String Department, and is an active Board member.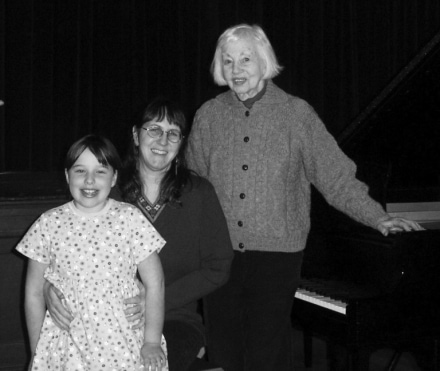 Dedicated faculty members who have taught at Powers for 20, 30, or even 40 years. Recorder and harpsichord teacher Gisela Krause retired in 2014 after teaching for 49 years!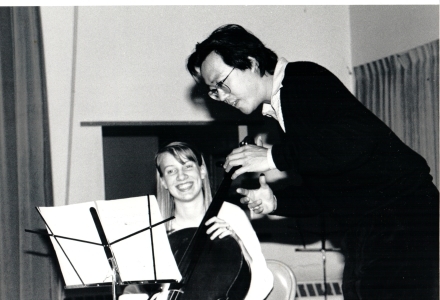 Since 1964, the Directors, Board, teachers, staff, volunteers, and families of Powers have spent countless hours ensuring that all people in the area interested in learning and enjoying music can do so. Powers Music School's history reminds us of those who championed community music education from the start over 50 years ago, and spurs us on to keep alive that mission, passion and dedication for years to come.
In that spirit, Powers has expanded its programming to reach populations with limited access to music, including those with financial challenges, limited mobility, physical, social or cognitive disabilities, and limited community music education opportunities. In the process, Powers has expanded geographically beyond Belmont, bringing music, education and joy to a wide network of venues and towns across the state of Massachusetts.