Help us invest in our students!
You've shown time and again throughout the last two years that together we're able to take a little and turn it into a lot. Today, we ask for your gift to Powers – a small but mighty investment in the future of so many deserving students.
The support of our donors has enabled our faculty to work wherever they are in the world, has given families the ability to watch performances digitally in real-time, and has transformed our physical spaces into safe teaching locations. It has also enabled us to award 50% more financial aid than we did 5 years ago, making Powers a place where anyone is welcome, regardless of limitations.
So for all of those things, small and large, THANK YOU.
We aren't entirely sure what lies around the corner, but we know that with our strong community saving for and investing in our students' futures, they'll be more than fine.



Other ways to give
Show your continued support with a monthly gift. (Use the donation button above.)
Send a check to Powers Music School, P.O. Box 398, Belmont, MA 02478
In-person: at our office, 396 Concord Avenue, Belmont
Amazon Smile!: Are you planning to purchase anything for your home or for others this week? Shop through this link and a portion of proceeds will benefit Powers!
Make your gift count twice! Check to see if your employer offers matching gifts.
Make a gift in honor of, or in memory of, someone special. Please call us at 617-484-4696 for more information.
Leave a legacy for the Powers community with planned and estate gifts. Please call us at 617-484-4696 for more information.
Gifts of stock and more: Please call us at 617-484-4696 for more information.
Volunteer: Interested in lending a hand in the office or at events? No commitment is too small!
Event Sponsorship: If you would like to make a food or monetary donation to the Mildred Freiberg Piano Festival contact us! Sponship guidelines can be found here.
Questions about donating?
Contact us at 617-484-4696.
Here's what we accomplished together in 2020-2021…
Click the image below to look through our 2020-2021 Annual Report and see the good work you and our faculty are doing in your community!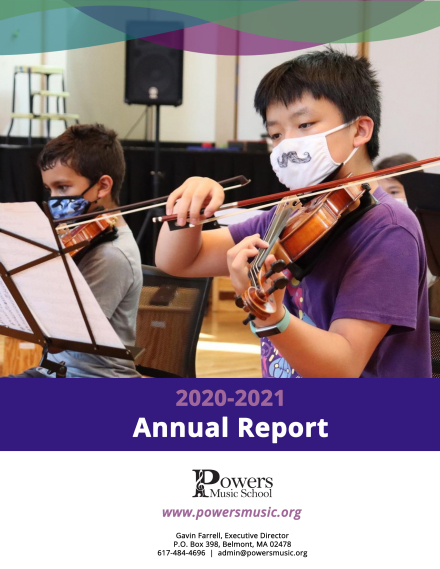 Thank you to our generous corporate sponsors and foundations who continue to help Powers Music School thrive!