Thank you for being part of our community here at Powers! Your support makes it possible for our students and members of the community to experience true transformations through music.

Why is your gift important?
Powers is not just a tuition-based school – we rely on your generosity to inspire, teach, and provide opportunities to so many people in your community. Your donations help real students find their voice and discover their true selves through music.
"I cannot say enough great things about Powers Music School. Over the past 10 years, my special needs daughter has had the honor of participating in the music therapy program. Every teacher has been very impressive in their ability to bring out the best in Michaela and hone her skills as a singer. Her vocal capabilities have skyrocketed as a result." – Elise Moore, parent of music therapy student
We want to bring that magic to more people this year – to children and families at local libraries, to our Workshop Week attendees, to our Watch City Singers participants, and to more students like Michaela.
But to do that, we need your support!
With a sponsorship of $1,000, you could cover tuition costs for one student's private lessons, to help her truly find her calling.
With a gift of $500, you could help more than 30 Watch City Singers participants at the Waltham Council on Aging sing, smile, and reverse the damaging effects of social isolation and depression.
With a gift of $250, you could introduce 50 adults in the community to instruments they've had their eyes on for years but were too intimidated to try.
With a gift of $100, you'd allow our faculty to lead a roomful of children in song at the start of a Musical Storytelling Program.
Will you help us to transform the lives of even more people in 2019-2020 with an Annual Fund gift today?

Other ways to give
Monthly Giving: Want to do more? Support our students with a recurring gift. (Use the donation button above.)
By mail: Send your check to Powers Music School, P.O. Box 398, Belmont, MA 02478
In-person: at our office, 396 Concord Avenue, Belmont
Amazon Smile!: Shop through this link and a portion of proceeds will benefit Powers!
Planned giving, stock, and more: Please call us at 617-484-4696 for more information.
Volunteer: Interested in lending a hand in the office or at events? No commitment is too small!
Questions about donating?
Contact us at 617-484-4696.
Here's what you helped us do in 2018-2019…
Click the image below to look through our 2018-2019 Annual Report and see the good work you and our faculty are doing in your community!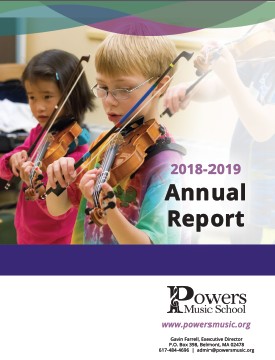 Thank you!
You are an important part of the Powers Music School family, and your generosity helps us change lives. Your efforts do not go unnoticed, and each dollar, each hour spent volunteering, and each performance you attend shows the students at Powers that you care. We look forward to sharing our music with you!
Thank you to our generous corporate sponsors and foundations who continue to help Powers Music School thrive!