In times of crisis our community turns to the critical services provided by first responders, food banks, shelters, and so many other impactful organizations. Music, whether for comfort in times of loss or to energize a call for change, provides an equally critical service.
Your help is still crucial for Powers families and for our community, who look to music for their inspiration, hope, and mental wellbeing.
Please help us support the students and communities who are struggling and hurting right now. Your gift allows us to provide human connection, joy, and access to music for so many people today and well into the future.

Why is your gift important?
Music provides powerful connections and the tools to process and manage overwhelming stress, trauma, and emotions. For many, music is their link to the world, their lifeblood.
Since early March and the beginning of COVID-19, Powers staff and faculty have transitioned more than 700 private lessons and 33 group classes to virtual learning platforms. We've faced numerous challenges and overcome them to make online learning viable and sustainable for our students. With the launch of Powers HOME, we've expanded our reach and deepened our commitment to serving the community. And we've touched the lives of countless people with virtual faculty concerts, a musical story program and a wealth of tips, videos, and resources.
This summer, our goal is to raise $25,000 to provide crucial support for families in need, to safely reopen and welcome students back into our studios, and to truly make music education accessible to anyone.
$15,000 will provide financial aid scholarships for students whose parents have lost or significantly decreased their income due to COVID-19.
$5,000 will provide personal protective devices and building modifications so that families and teachers can feel safe in our buildings and be together again in-person.
$5,000 will significantly improve our internet capabilities so we can deliver high-quality music programs from our studios to those in need through the new Powers HOME division.
Will you help us keep music in our students' lives and continue to bring hope to our community?

Other ways to give
Show your continued support with a monthly gift. (Use the donation button above.)
Send a check to Powers Music School, P.O. Box 398, Belmont, MA 02478
In-person: at our office, 396 Concord Avenue, Belmont
Amazon Smile!: Are you planning to purchase anything for your home or for others this week? Shop through this link and a portion of proceeds will benefit Powers!
Make a bequest for the Powers community. Please call us at 617-484-4696 for more information.
Gifts of stock and more: Please call us at 617-484-4696 for more information.
Volunteer: Interested in lending a hand in the office or at events? No commitment is too small!
Questions about donating?
Contact us at 617-484-4696.
Here's what you helped us do in 2018-2019…
Click the image below to look through our 2018-2019 Annual Report and see the good work you and our faculty are doing in your community!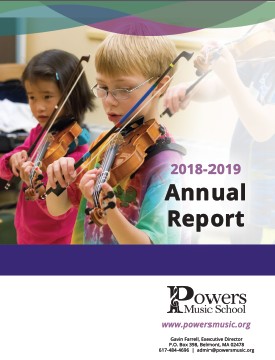 Thank you!
You are an important part of the Powers Music School family, and your generosity helps us change lives. Your efforts do not go unnoticed, and each dollar, each hour spent volunteering, and each performance you attend shows the students at Powers that you care. We look forward to sharing our music with you!
Thank you to our generous corporate sponsors and foundations who continue to help Powers Music School thrive!