Your gift goes twice as far this year!
Annual fund gifts to Powers always strengthen the pillars of our school – the highest quality educational programs for students, financial aid to welcome anyone with a desire to learn, and festivals and events to bring us together as a music community.
This year, you have an additional opportunity to lay the groundwork for the future of Powers – our new home! Please consider a second gift "above and beyond" your annual fund donation this season to help us cover the costs of renovating and refreshing our new building at 160 Lexington Street in Belmont. It's a special place that exponentially expands our ability to bring music to everyone in Belmont and beyond. This move creates space for better music-making, for stronger connections with each other, and for more creativity and compassion.
Our goal is to raise $275,000 by December 31 to complete initial renovations…and we're already 70% of the way.
Let's finish this final push together. Will you make a special gift for Powers' new home alongside your annual fund gift?
(Please note: If you would like to contribute to the Annual Fund as well as the New Home fund, please choose "Powers' New Home + Annual Fund" in the dropdown below and write in the Comments box how you would like us to split it up.)
Other ways to give
Show your continued support with a monthly gift. (Use the donation button above.)
Send a check to Powers Music School, P.O. Box 398, Belmont, MA 02478
In-person: at our office, 160 Lexington Street, Belmont
Amazon Smile!: Are you planning to purchase anything for your home or for others this week? Shop through this link and a portion of proceeds will benefit Powers!
Make your gift count twice! Check to see if your employer offers matching gifts.
Make a gift in honor of, or in memory of, someone special. Please call us at 617-484-4696 for more information.
Leave a legacy for the Powers community with planned and estate gifts. Please call us at 617-484-4696 for more information.
Gifts of stock and more: Please call us at 617-484-4696 for more information.
Volunteer: Interested in lending a hand in the office or at events? No commitment is too small!
Event Sponsorship: If you would like to make a food or monetary donation to the Mildred Freiberg Piano Festival contact us! Sponship guidelines can be found here.
Questions about donating?
Contact us at 617-484-4696.
Here's what we accomplished together in 2021-2022…
Click the image below to look through our 2021-2022 Annual Report and see the good work you and our faculty are doing in your community!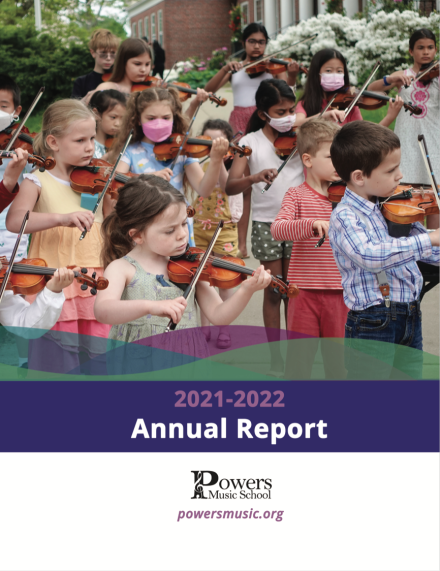 Thank you to our generous corporate sponsors and foundations who continue to help Powers Music School thrive!