Let's Reach Our New Vision Together.
For 60 years, Powers has helped our community find joy in music. But we're not just in the music education business…we're in the business of helping people feel like they matter.
Our new vision is for every person to realize their self-worth through their own personal journey towards excellence. We aim to create a safe, encouraging space to freely express ourselves, develop resiliency, and cheer each other on.
Your donation can make this happen!
Our 60th Anniversary Campaign goal is $850,000 – money we'll use to work towards that vision through four areas: Annual Fund, Concert Hall and Building Needs, Financial Aid Endowment Gifts, and Innovation.
Annual fund gifts will help us get started on this vision through improving our festivals and workshops, student progress reports, and more!
You can also choose to make a gift to the "60th Anniversary Fund," supporting building renovations, strategic planning, and innovation for the future.
(To split your gift equally between the two, choose "Annual Fund & 60th Anniversary" or write a note in the Comments box about how you'd like us to split it.)
It's an exciting time – thank you for your generosity and support!
Other ways to give
Show your continued support with a monthly gift. (Use the donation button above.)
Send a check to Powers Music School, P.O. Box 398, Belmont, MA 02478
In-person: at our office, 160 Lexington Street, Belmont
Make your gift count twice! Check to see if your employer offers matching gifts.
Make a gift in honor of, or in memory of, someone special. Please call us at 617-484-4696 for more information.
Leave a legacy for the Powers community with planned and estate gifts. Please call us at 617-484-4696 for more information.
Gifts of stock and more: Please call us at 617-484-4696 for more information.
Volunteer: Interested in lending a hand in the office or at events? No commitment is too small! Fill out this form or email our Community Engagement Manager, Rachel, at

rbeuseekauffman@powersmusic.org

to be added to our volunteer list.
Event Sponsorship: If you would like to make a food or monetary donation to the Mildred Freiberg Piano Festival contact us! Sponship guidelines can be found here.
Questions about donating?
Contact us at 617-484-4696.
Here's what we accomplished together in 2021-2022…
Click the image below to look through our 2021-2022 Annual Report and see the good work you and our faculty are doing in your community!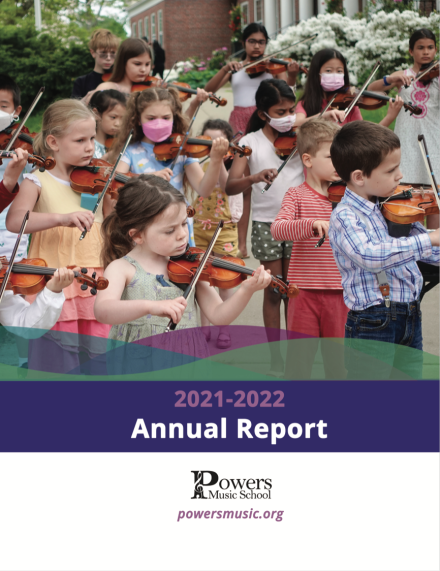 Thank you to our generous corporate sponsors and foundations who continue to help Powers Music School thrive!