Keeping Up Momentum, Adapting for Impact
No one should feel unsafe in their musical home.
Every person deserves the chance to pursue their musical goals.
We've made great strides this year, but there are still people in our community who are struggling – some who can't afford to take music lessons, some without easy access to music, some who have mobility and health challenges.  Your donation this winter is so important now to keep our positive momentum going and to safely bring music education to everyone.
Will you help us continue to keep Powers safe?
Will you help a new student pick up his instrument and start smiling again?

Thank you for all you've done for Powers during this challenging time, and for keeping music in all of our hearts.
We're raising $30,000 across 3 focus areas:
Safe Students –supporting continued COVID-19 safety modifications and ongoing investments in our facilities.
Access –ensuring that anyone who wishes to learn music has the ability to do so, through our crucial financial aid and Belmont Scholars programs.
Inclusion –supporting our reach into the larger community to bring music to more people, including Diversity, Equity, and Inclusion work and training for staff and faculty and increased community outreach programs online.
It would be easy to coast through a difficult time, but that's not what we're striving for. We're continually adapting and managing more complex operations to make a much larger impact for years to come.
Having the support of cherished friends and families like yours is so crucial to us as we take the turn into the new year, as is our ability to share music together well beyond 2021.

Other ways to give
Show your continued support with a monthly gift. (Use the donation button above.)
Send a check to Powers Music School, P.O. Box 398, Belmont, MA 02478
In-person: at our office, 396 Concord Avenue, Belmont
Amazon Smile!: Are you planning to purchase anything for your home or for others this week? Shop through this link and a portion of proceeds will benefit Powers!
Make a bequest for the Powers community. Please call us at 617-484-4696 for more information.
Gifts of stock and more: Please call us at 617-484-4696 for more information.
Volunteer: Interested in lending a hand in the office or at events? No commitment is too small!
Questions about donating?
Contact us at 617-484-4696.
Here's what we accomplished together in 2019-2020…
Click the image below to look through our 2019-2020 Annual Report and see the good work you and our faculty are doing in your community!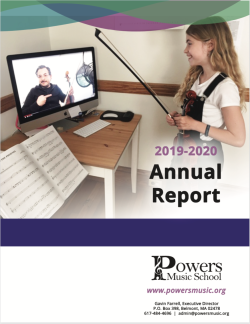 Thank you to our generous corporate sponsors and foundations who continue to help Powers Music School thrive!