A Bridge to the Future
As you rounded the corner into 2021, did you feel like the new year would finally bring a sense of normalcy back to your life?
Although we can't say that everything is back to normal on Concord Avenue, we CAN confidently say that we see so many good things coming your way.
The challenge now?
To look back on 2020 and the beginning of 2021 with a positive lens, to realize all of the things you've learned, and to bring those lessons into the next year to come out stronger, happier, and well-supported. This is our challenge, too.
We invite you to join us as we build a Bridge to the Future – a road from the negative to the positive, a connection point to help us walk forward while not forgetting the path behind.
Will you help us cross this bridge and combine the lessons we've learned with our future vision?

Thank you again for everything you've done for Powers and our students as we've learned these lessons and faced the year together. You are truly a valued part of Powers.
We're raising $15,000 across 3 focus areas:
Our goal is to raise $15,000 by August 31 to bring all of the good things from the pandemic year forward and merge them with the things you already value – music, education, and a strong community.
Your gift now is so important as we reimagine and prepare for what the upcoming year will look like. Here's what your gift this week could mean for the fall:
Safety – Ensuring the safety of everyone returning to campus through continued facility improvements.
Flexibility – Preparing for interchangeable on-site and online teaching with equipment to support both.
Technology – Enhancing the experience of learning and enjoying music by live-streaming events for families and for you!
You've made such a difference to Powers students during these tumultuous past 15 months – can we count on you once more to walk with us and build the bridge to a bright year?

Other ways to give
Show your continued support with a monthly gift. (Use the donation button above.)
Send a check to Powers Music School, P.O. Box 398, Belmont, MA 02478
In-person: at our office, 396 Concord Avenue, Belmont
Amazon Smile!: Are you planning to purchase anything for your home or for others this week? Shop through this link and a portion of proceeds will benefit Powers!
Make a bequest for the Powers community. Please call us at 617-484-4696 for more information.
Gifts of stock and more: Please call us at 617-484-4696 for more information.
Volunteer: Interested in lending a hand in the office or at events? No commitment is too small!
Questions about donating?
Contact us at 617-484-4696.
Here's what we accomplished together in 2019-2020…
Click the image below to look through our 2019-2020 Annual Report and see the good work you and our faculty are doing in your community!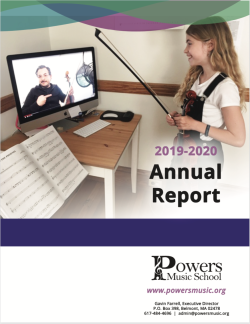 Thank you to our generous corporate sponsors and foundations who continue to help Powers Music School thrive!