You can shape the year!
You stockpile for natural disasters, mentally prepare for major life transitions, and even lay your clothes out for the following morning. Will you help a Powers student or teacher prepare for 2022?
Now it's our time to set all of our families up for success, and, unlike 2020, we know much of what lies ahead this spring and summer. Now we humbly ask you to help us live out one of Powers' values – compassion.
We ask you to help us Shape the Year for all Powers families by raising $30,000 for flexible learning formats, live-streaming, and financial aid by December 31.

Thank you for your support and generosity as we turn our attention to spring. We couldn't do it without you.
We're raising $30,000 to Shape the Year:
You know that relief you feel when you know you've done all you can? You can help Powers breathe a sigh of relief also as we prepare for the year 2022.
Our goal is to raise $30,000 by December 31 to set all Powers families and teachers up for success this spring:
Flexibility – Continuing to prepare for interchangeable on-site and online teaching with equipment to support both.
Technology – Enhancing the experience of learning and enjoying music by live-streaming events for families and for you!
Financial Aid – Paving the way for another child to learn an instrument this year
Will you make a meaningful gift today to shape the year for Powers families?

Other ways to give
Show your continued support with a monthly gift. (Use the donation button above.)
Send a check to Powers Music School, P.O. Box 398, Belmont, MA 02478
In-person: at our office, 396 Concord Avenue, Belmont
Amazon Smile!: Are you planning to purchase anything for your home or for others this week? Shop through this link and a portion of proceeds will benefit Powers!
Make a bequest for the Powers community. Please call us at 617-484-4696 for more information.
Gifts of stock and more: Please call us at 617-484-4696 for more information.
Volunteer: Interested in lending a hand in the office or at events? No commitment is too small!
Questions about donating?
Contact us at 617-484-4696.
Here's what we accomplished together in 2020-2021…
Click the image below to look through our 2020-2021 Annual Report and see the good work you and our faculty are doing in your community!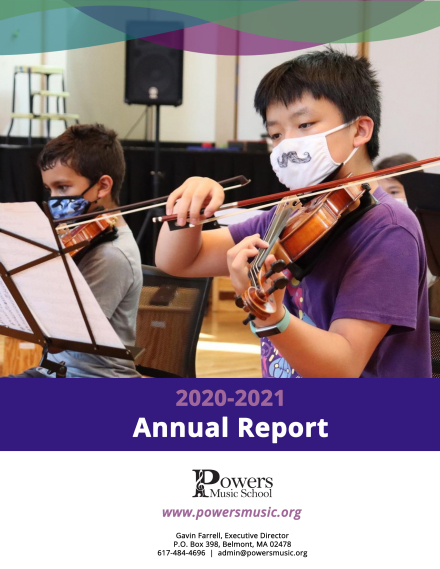 Thank you to our generous corporate sponsors and foundations who continue to help Powers Music School thrive!