Part of our mission is to bring music to everyone – that includes older adults, one of the fastest growing segments of the population. Research shows that being artistic and creative helps you live both a happier life and a longer life.
Powers Vitality Arts programs reduce the health risks of social isolation for older adults through engaging cultural programming that honors their interests and value to society. Our goal is to  actively engage them as creators, generate purpose and comradery, boost skills and self-esteem, and lead to better overall health and vitality.
Currently, Powers Vitality Arts is made up of two programs – Golden Roots (a partnership with the Grove Hall Senior Center in Dorchester) and Watch City Singers (a partnership with the Waltham Council on Aging).
Watch City Singers
Watch City Singers, a choral group established in 2019 with Waltham Council on Aging, is a weekly, in-person class that teaches vocal technique and empowers participants to become more socially connected. Each week features warm-ups, mindfulness, social engagement, progressive skill-building in voice and music concepts, and repertoire selected by the participants themselves. Teaching artist Mary Cunningham helps students address performance anxiety, then perform a selection of their chosen repertoire and celebrate their progress in a final public performance. By the program's conclusion, students have made new friends, learned to sing and speak clearly, boosted their self-esteem, and created a deep sense of purpose and belonging.
Click the image to see the Watch City Singers video!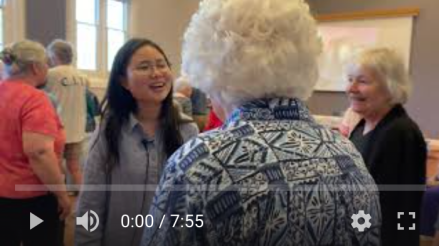 Golden Roots
Golden Roots, established in 2021 with the Grove Hall Senior Center in Dorchester, is a 12-week course combining Caribbean music, storytelling, and crafts. The program incorporates familiar music and culture with challenging learning experiences and opportunities for social engagement. Led by master drummer Nurudafina Abena, participants meet twice a week to learn songs and rhythms, share stories, make their own shekere (beaded gourd), and create music together using their newly crafted instrument. The Golden Roots program was originally created to be held onsite but successfully transitioned to an online format due to the pandemic.
Click the image to see the Golden Roots program video!