Grove Hall Director Aidee Pomales says some of the visitors to the center come and go. Many, though, show up in the morning and stick around for the day. The center caters specifically to seniors, and is one of the few places in the area that provides programming for them Monday to Friday. Grove Hall is their community, their home away from home, and the arts play a large part in that home.
Our Summer 2022 Powers Vitality Arts program at Grove Hall gave participants a new perspective on the music they found deep in their souls. Licensed music therapist Krystal Bloom created a weekly space for them to listen, sing, dance, and express themselves through old favorites, new pop tunes, and timeless classics. Each session, they chose from instruments, art, singing, and dancing according to how they felt that day. The program concluded with a live karaoke session that had many up on their feet belting "Proud Mary" and swaying to "You've Got a Friend."
Our second Powers Vitality Arts initiative, the program at Grove Hall Community Center is an ever-changing one that strongly relies upon and reflects the real interests of the seniors who come in.
Says Aidee, "They definitely have a lot of input in the programming, because we're constantly sitting with them and asking, what do you want to see happen next? They give us the ideas and we just try to implement them."
One season, you'll hear the beat of an African drum or handmade instrument, and the next, you'll spot fifteen older adults humming an Ella Fitzgerald karaoke track. Each year, we meet participants where they are and listen closely to what they'd like to do.
The reason is simple – music brings joy. And we all need a little more joy these days.
More specifically, music helps to combat the negative physical and mental health effects of social isolation. It brings a revolving group of people together to share their experiences, to talk, to feel connected, and to experience an hour that's a little less lonely. It helps them battle depression, hopelessness, and disease. It keeps them moving, and keeps them learning. It gives them a new sense of purpose and a reason to leave the house.
Ayana Green, Elderly Service Worker at Grove Hall, says, "Ms. Carrie – she's super shy. It took her like a year to talk to us before COVID, so to be able to come back after COVID and get up and dance? I think music brings people together. It's a language that you don't have to speak. I think that's the cool part."
Says Aidee, "They are definitely much happier, and more comfortable."
Here's what one participant had to say about the 2022 program with Krystal:
To keep the Grove Hall Community Center participants moving and grooving, we rely on the additional support of grants, government funds, and private donors.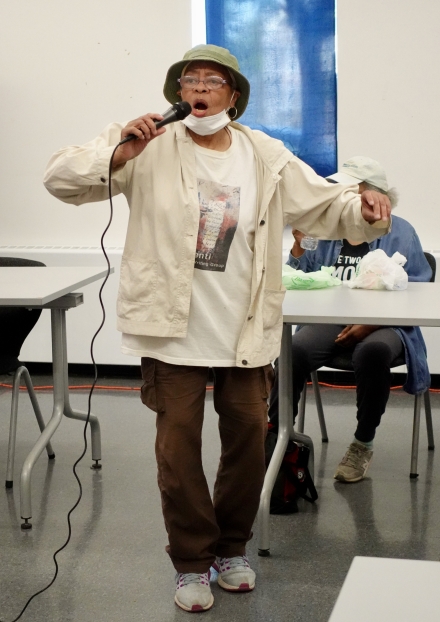 Ready to get some seniors up on their feet again?
Reach out to Executive Director Gavin Farrell at gfarrell@powersmusic.org with your questions and ideas for supporting this important program.
Thank you to all of the supporters of the Grove Hall program for helping us bring music and joy to this special group of older adults!