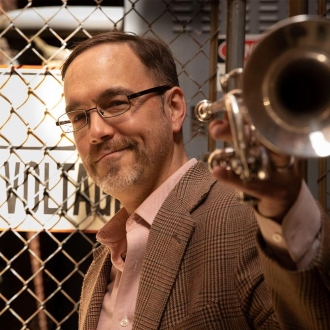 Inquire About Lessons
(He/him)
Andrew Sorg is an active performer, chamber musician, educator, and composer in the Boston area. Originally from New Jersey, he began playing trumpet at the age of eight and holds two degrees from The Boston Conservatory. Andrew is Principal Trumpet of The New Bedford Symphony Orchestra and has performed with The Boston Symphony Orchestra, Boston Pops, Boston Ballet, Boston Lyric Opera, Boston Philharmonic, Iris Orchestra, Portland Symphony and as a fellow in The Tanglewood Festival Orchestra, 2000-2001. As a soloist he has been featured with the Vermont Mozart Festival Orchestra, the Gardner Chamber Orchestra, The Vermont Symphony, The New Bedford Symphony, and played Mahler's Third Symphony posthorn solo with The Boston Ballet. He has performed under some of the world's top conductors and made recordings with The Atlantic Brass Quintet, Triton Brass, The Vermont Symphony, The Vermont Symphony Brass Quintet, The Old South Brass Ensemble, and numerous recordings for Netflix productions at Boston's WGBH studios.
As a chamber musician, Andrew is the recipient of the bronze and silver medals at The Fischoff Chamber Music Competition, The Spedidum Prize at The International Lyon Chamber Music Competition, and the Grand Prize Winner at The New York City Brass Conference Brass Quintet Competition. Andrew is a former member of the grammy nominated  Atlantic Brass Quintet and has also performed with the Paramount Brass, The Innovata Brass, Bala Brass, The Royal Brass Quintet, The Nashua Symphony, and Vermont Symphony Brass Quintets and is a member of The Old South Brass Ensemble.
As an educator, Andrew is a faculty member at The Powers Music School, The Concord-Carlisle Music School, and The Boston University Tanglewood Institute. Former adjunct and chamber residency positions include The University of Connecticut 2013-14 and 2016, Boston College, The Boston Conservatory, Eastern Nazarene College, and The Atlantic Brass Quintet Seminar in Boston, MA. He has given chamber master classes at Juilliard,  New England Conservatory, Boston Conservatory, Calvin College, Tennessee Tech, University of Alabama, Auburn, MIT, and Umass Amherst among others across the country. He has worked with The Vermont Youth Orchestra and The Boston Youth Orchestra. His students have won first chairs in Massachusetts Central Districts, North Eastern Districts, Eastern Districts, South Eastern Districts, All-State, participated in All-Eastern, and gone on to some of the top music schools in the country. 
As a composer, Andrew has written four works for brass quintet, Mental Disorders, Voices In Da Fan, Prelude & Fugue in E minor, and The Existential Crisis. Also, over forty hip-hop songs, most of which are in mixed meter. His current project is called Let Freedom Ring for the Triton Brass, which will include a dialogue between Martin Luther King Jr. and Tupac Shakur. In May 2019 Old South Brass premieres one of his four fanfares for their 350th Anniversary.