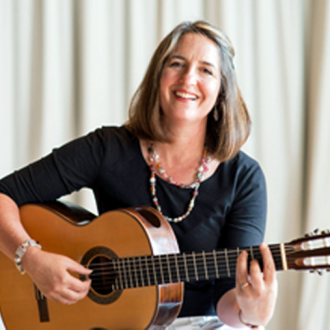 Berit Strong
Suzuki guitar
Inquire About Lessons
Berit Strong has 35 years of experience teaching Classical and Suzuki Guitar to all levels, from beginner to advanced, ages four to 84. She was fortunate to study with some of the best teachers in the world and is eager to share her knowledge in private and group lessons. For young students, she stresses the Suzuki Method of ear training, a relaxed technique, a fearless stage presence, and a beautiful tone. For preteens up to senior citizens, she tries to build a bridge between a good technical foundation and tailoring the music to their interests and personal goals. The guitar is a versatile instrument; Berit can teach Pop, Folk, and Ethnic in addition to Classical Styles and Techniques.
Berit earned her Master's in Guitar Performance at the New England Conservatory of Music and was awarded "Distinction in Performance" and her Bachelor's in Music cum laude at the Hartt School of Music. In between these two degrees, Berit studied in Italy for two years with musicologist Ruggero Chiesa and virtuoso guitarist Oscar Ghiglia. In 1988 she placed Third in the Guitar Foundation of America International Competition, which launched her performance career. Invitations to perform in NYC, Cleveland, Boston, former Yugoslavia, Hungary, and Denmark followed, as well as live appearances on SwissRadio, NPR, and World Service International.
Berit teaches at the Groton Hill Music Center, Groton School, and in her home studio in Acton.
She is currently studying the Bass Viol Da Gamba with Jane Hershey and performs in a Baroque group called "Ensemble 44".