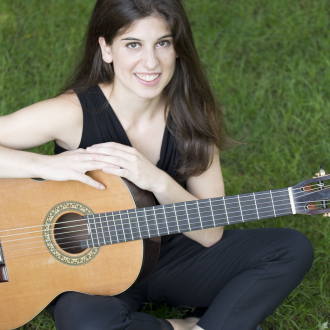 Catherine O'Kelly
Suzuki guitar, guitar
Inquire About Lessons
(She/her)
Catherine O'Kelly teaches classical guitar and Suzuki guitar. She began her guitar studies at The Powers Music School at the age of seven. Currently, she is finishing her Doctor of Musical Arts degree in classical guitar performance at The Hartt School in West Hartford, CT, where she studies with Christopher Ladd. She earned a position with The Hartt School's Honors Chamber Music Program, Performance 20/20, providing her a full scholarship for her doctoral studies. Catherine earned her Master's degree in guitar performance in 2013, also at The Hartt School, where she studied with Richard Provost and completed Suzuki training with David Madsen; and she earned her BA in music and philosophy from Vassar College in 2011.
Catherine is an active performer throughout New England, both as a solo guitarist and as a chamber musician. She performs regularly with her flute and guitar duo Tedesco Duo, alongside flutist Arielle Burke. In June 2020 Catherine founded and directed the Online Guitar Festival, providing performance opportunities, master classes, composition classes, and songwriting classes to guitarists of all ages and levels. The festival commissioned the ensemble piece Kaleidoscope: A Community from composer Michael Stubblefield, and festival participants performed a live premiere online.
Catherine also teaches at The Rivers School Conservatory in Weston, MA, and at Dana Hall School in Wellesley, MA. Her students have performed in masterclasses for composer Leo Brouwer and guitarist Sharon Isbin. She is a registered Suzuki teacher, and as a former Suzuki student herself, she is passionate about teaching young students through the Suzuki method.