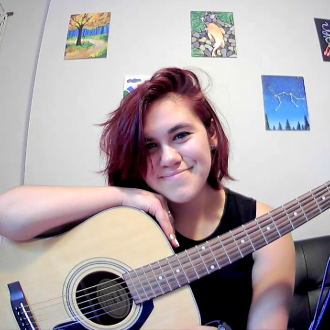 Cheyenna Eagle
Music Therapy
Inquire About Lessons
(She/her)
Cheyenna (Chey) Eagle, MT-BC graduated with a degree in Music Therapy, with a concentration on oboe, from the State University of New York at Fredonia in 2020. After completing her 8-month internship in Rochester, New York, seeing students both in person and virtually, she went on to continue working in the WNY area as a Board Certified Music Therapist for 2 years. Through her clinical work, she has gained experience working in a wide range of settings, including nursing homes, hospices, and schools. Chey has professional experience working with children and adults with multiple disabilities and has taught adapted/modified and standard lessons on a variety of instruments. In 2021, she completed the Neurologic Music Therapy training through the Academy of Neurologic Music Therapy. Chey has also served on music therapy committees on both the regional and national levels through the American Music Therapy Association, including completing a term as part of the Executive Board of the Mid-Atlantic Region of the American Music Therapy Association.
Chey considers herself most drawn to community-based music therapy and practices with a Humanistic and Existential theoretical orientation. She actively seeks to practice with an anti-racist lens and puts great personal and professional focus on topics of social justice and Diversity, Equity, and Inclusion. Chey firmly believes that inclusion and accessibility to music education and therapy for all is a key component in community building and belonging.
Currently, Chey provides music therapy services in the Greater Boston Area, including Nashua, NH where she is contracted at various assisted living facilities and community organizations. When not doing music therapy, she continues to enjoy learning a variety of instruments and performing on her oboe in pit orchestras and other groups in the area, including Firebird Pops Orchestra.