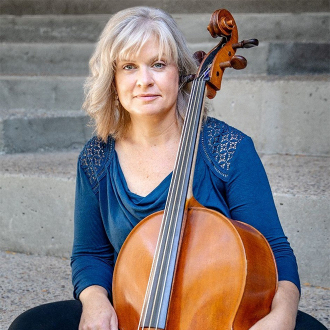 Colleen McGary-Smith
cello
Inquire About Lessons
A versatile and adventurous performer, Colleen McGary-Smith appears throughout New England on historical and modern cellos as well as viola da gamba. Colleen is a member of both Boston Baroque and the Handel and Haydn Society, with whom she has recorded on the Linn Records, Coro, and Telarc labels.
In high demand as both a modern and period cellist, Colleen has appeared with The Berry Collective, Les Bostonades, Cape Cod Symphony, Pro Arte Chamber Orchestra, Boston Lyric Opera, Newton Baroque, Rhode Island Philharmonic, Columbus Symphony, Canton Symphony, Erie Philharmonic, and the Washington Bach Consort.
Tutti Bassi, Colleen's duo with baroque cellist Sarah Freiburg, explores the rich repertoire of baroque cello Sonatas and duos. Colleen has also performed on viola gamba with NYC renaissance ensemble Sonnambula.
Colleen has appeared in solo and chamber recitals at The Cleveland Museum of Art, Nazareth College of Rochester, Gore Place Carriage House Concerts, Chicago Institute of Music, The Isabella Stuart Gardner Museum, and King's Chapel concert series.
Colleen completed her pre-college studies at the Eastman School of Music preparatory department. She received her Bachelor of Music degree from The Cleveland Institute of Music and Master of Music from Boston University, School for the Arts where she was nominated to Pi Kappa Lambda, National Music Honors Society.
Colleen is in great demand as a teacher and chamber music coach. Past teaching appointments were with Concord Academy, Lawrence Academy (Groton MA), Indian Hill School of Music, The Community Music Center of Boston, Acton Public Schools, and the Preparatory Departments of New England Conservatory and The Cleveland Institute of Music. Colleen currently teaches in her active home studio and at Powers Music School. She is a frequent adjudicator and has given lectures on practice techniques and planning, historical performance practice, music and dance, and cello technique workshops.
Colleen resides in Littleton, Massachusetts with her husband and two teen sons.  In her free time, she enjoys spending time outdoors with her family and their 2 rescue dogs and 2 rescue cats. Colleen McGary-Smith belongs to Beyond Artists, a coalition of artists that donates a percentage of their concert fees to organizations they care about.
Fun Facts
Where did you grow up and where do you live now? I grew up in St Catherine's Ontario, Canada and Rochester NY. I now live in Littleton MA.
Family, pets? My family is my husband, two teenage boys, 2 dogs and 2 cats.
How did you first get started in music? Both my parents are professional musicians and music was just part of our daily family life.
What instruments do you play? Cello, baroque cello and viola da gamba. I have been trying to learn how to play violin……
How old were you when you started playing? 5 Years old
Where did you go to school and what did you study? I spent my later high school years involved with the Eastman Preparatory School and completed my Bachelor of Music from the Cleveland Institute of Music and my Master of Music from Boston University. I studied cello performance for both degrees.
Who are some of your favorite musicians, bands, albums to listen to? I actually listen to a huge variety of music including almost every genre.
What are the musical styles you teach? I teach primarily classical music, but am always open to adding other genres into lessons.
What are your artistic and/or musical pursuits, goals, and accomplishments? I would say my musical goal is to never stop learning in both my own playing and in my teaching.