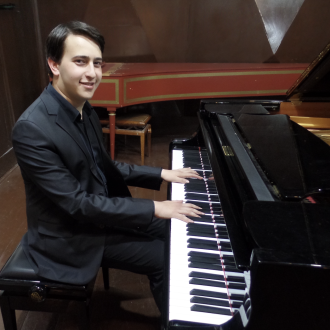 Inquire About Lessons
Daniel Neyman began his piano studies at the Karmiel Conservatory with Mrs. Svetlana Pachter. He attained his Bachelor of Music degree at the Jerusalem Academy of Music under the tutelage of Prof. Michael Boguslavsky. Daniel received his Master of Music degree from Yale University School of Music where he studied with Prof. Melvin Chen and Prof. Boris Berman. Currently, he is pursuing his Doctor of Musical Arts degree at Boston University School of Music, studying with Prof. Pavel Nersessian. Also, Daniel is studying with Prof. Alexander Korsantia as well as taking classes at Harvard University's Department of Music. Daniel has taken several pedagogy classes at Yale University and Boston University as well, as he has been teaching piano since 2010 in various institutions, including Yale University, Jerusalem Academy of Music, and Boston University. Currently, Daniel is a faculty member at the Roger Williams University where he teaches piano and music theory.
Daniel has performed in many countries, such as France, Germany, Czech Republic, Hong Kong, Turkey, Spain, Azerbaijan, Hungary, Austria, Italy, Canada, U.S.A., and Portugal. Since 2008, he has been performing in Live Broadcast recitals at the Israeli Voice of Music Radio. Daniel was awarded First Prize at the Excellence of Piano Performing International Competition, which enabled him to perform at Carnegie Hall. He also won first prizes at the "Voice of Music Competition", the Chamber Music Competition at the Jerusalem Academy, the "Piano Forever" Competition in Ashdod, the Puigcerdà International Piano Competition in Spain, the Pompignan International Piano Competition in France, and the Liszt International Piano Competition in Eilat.
Daniel took part in various musical projects, such as the Piano Master project of the Edward Aldwell Center, the Jerusalem chamber music project, International Piano Course in Spain, Tel–Hai International Piano Master Classes, Chopin Festival, Piano Festival in France, Chamber Music Festival in Eilat, Brahms Festival, and the Gabala Music Festival. He is currently playing with leading symphony orchestras and recently he performed with the Yale Philharmonic Orchestra.