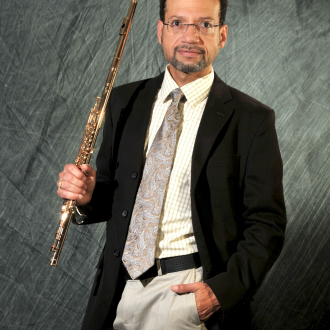 David B. Houston
SMMS flute, flute
Inquire About Lessons
(He/him)
A native of New York City, David B. Houston is a graduate of the High School of Music and Art. He then received a Bachelor of Fine Arts degree in flute performance from the Conservatory of Music at SUNY  Purchase College, and a Master of Music degree from Indiana University at Bloomington, where he was an Associate Instructor of Flute. His primary teachers include Kenneth Harris, Harold Bennett, Nadine  Asin, Judith Mendenhall, Carol Wincenc, and Peter Lloyd.
He was a Doctor of Musical Arts candidate at Indiana University when he accepted the position of  Marketing Director at Verne Q. Powell Flutes, Inc. in 1990. There he also learned flute finishing and was a headjoint tester. He was Director of Customer Service at Powell Flutes when he left in 1998 to work for Brannen Brothers Flute Makers, Inc. He remained there until 2007 when he was asked to return to  Powell Flutes as Director of Quality. During his 20 year tenure at Powell and Brannen, Mr. Houston was directly involved in and responsible for many various facets of flute, piccolo, and headjoint design and construction. In 2010 he left Powell to return to and pursue his first love of teaching and performing by starting the Houston Flute Studio for students of all levels which he maintains in Cambridge and  Framingham, MA.
Mr. Houston on the flute faculty at Floot Fire! Boston, and the Performing Arts Center of Metrowest, where he conducts the PAC Flute Ensembles. He is the private flute instructor for the University Wind Ensemble at Boston College and was a flute section coach for the Boston Youth Symphony Orchestras.  He has served on the preliminary and final judging panels for the James Pappoutsakis Annual Memorial  Competition, the Claire Johnson Flute Soloist Competition, the Chicago Flute Club Competitions, and others. He is the Executive Director of the Marcel Moyse Society and was recently elected to the National Flute Association's Board of Directors and Diversity and Inclusion Committee, in addition to serving on the NFA's judging and selection panel for the First Generation in College Scholarship.
Fully immersed in the flute community, Mr. Houston enjoys dividing his time between teaching,  performing, and flute making. In 2011 he collaborated with flute-maker, colleague, and longtime friend, Lev Levit, to produce the exclusively handcrafted Levit Flutes.
Mr. Houston performs regularly with "Trio Tableau", comprised of himself, pianist, Joy Cline Phinney, and  Boston Symphony Orchestra violinist, Catherine French.
Complimenting his extensive musical training, Mr. Houston has a background in acting and improv theatre. Having completed classes in acting for film and TV at C.P. Casting in Boston and theatre improv levels I‐V at ImprovBoston, Mr. Houston adapts and incorporates these methods into techniques appropriate for musical study in order to help students explore and develop their own musical style and interpretation.