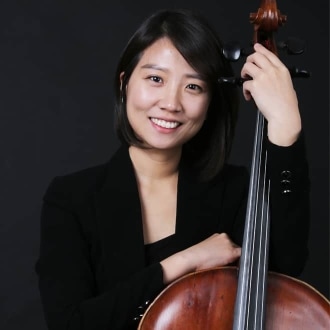 Inquire About Lessons
(She/her)
Cellist Hwakyung Jang, a native of South Korea, has performed throughout the United States of America and Korea. Ms. Jang received a bachelor's and a master's degrees in Music Performance from Manhattan School of Music under the guidance of Professor Marion Feldman with scholarships. She also received a doctorate degree of Musical Arts from Boston University under the tutelage of Professor Michael Reynolds.
Dr. Jang was the first-prize recipient of the Barbara Krakauers Award from Associated Music Teachers League, Inc. Moreover, she won the Young Musician competition and had the privilege of performing at Weill Carnegie Hall in New York City. She played "A Tribute to Pablo Casals Cello Collaboration" directed by Marta Casals Istomin and Bonnie Hampton. Dr. Jang also performed under the direction of Richard Aaron, Youngchang Cho, Anita Leuzinger, and Richard Tunnicliffe in master classes.
She is not only an internationally renowned soloist, but also an active member in various orchestras. She performed in Haffner Sinfonietta, New England Repertory Orchestra. Dr. Jang also participated in Kurt Masur's conducting seminars and orchestra performances. One of the highlights of my career includes performances with the Miclot Chamber Music Society which took its debut performance in NYC at Bruno water auditorium in Lincoln center since 2020.
Dr. Jang has been a cellist of Miclot Chamber Music Society since 2019. Also, Dr. Jang has been the string faculty at South Shore Conservatory and Powers Music School.