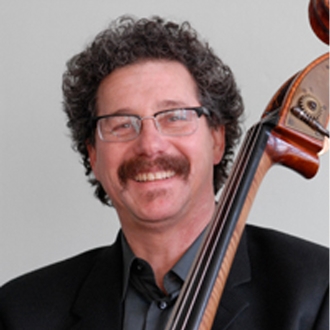 Jim Guttmann
Upright & electric bass, jazz
Inquire About Lessons
(He/him)
Bassist Jim Guttmann has had a long and varied career as a performer and music educator. In the 1970s he was performing in the Boston area in folk, rock, blues, and jazz groups as well as with the Boston Civic Symphony and the Boston Philharmonic. In the 1980s he helped found the Klezmer Conservatory Band and RESQ (Really Eclectic String Quartet), groups that performed across the country and internationally and presented educational programs wherever they went. In 1985 he joined the faculty of what was then the Belmont Music School, now known as the Powers Music School, where he taught until his touring schedule made a regular teaching practice impractical. He returned to teaching in the late 1990s, teaching privately and at various independent schools in and around Boston.
Over the past 15 years, Jim has focused more on teaching, working with students from elementary school age to retirement age. Many of his high school students have auditioned successfully for District and All State Festival Orchestra and Jazz Band, have won awards at the Mingus and Ellington competitions, and have been accepted to highly regarded college-level music programs such as New England Conservatory, Berklee College of Music, NYU, Indiana University, and McGill University.
Jim continues to perform locally and around the country and rejoined Powers' faculty in the fall of 2017. He teaches both string bass and bass guitar and coaches rock and jazz ensembles. He helps younger students develop a strong fundamental technique and understanding of basic music theory and his wide range of performing experience lets him guide older students through their own musical explorations as they develop their own musical identities.