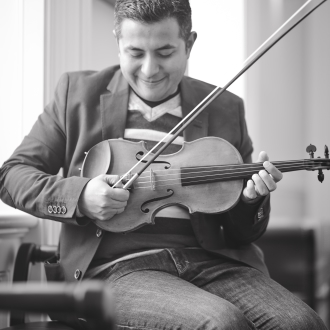 Job Salazar Fonseca
Orchestra (SMMS)
Former violinist in the Monterrey Symphony Orchestra (OSUANL) and Opera Nuevo Leon, as well as former Associate Violin Professor at the Universidad Autonoma de Nuevo Leon Music Department, both in Monterrey, Mexico. He was showcased in the Chamber Music Festival of Nuevo Leon, Festival Internacional deMusica Mexicana, CONARTE; other festival credits include Brevard Music Center, Festival Del Sole in Napa, California.
Presently is a member of The Unitas Ensemble, Boston's Latin Orchestra and Harvard Baroque Chamber Orchestra. Has collaborated with Crescendo, Oriana Consort, La Donna Musicale and Rumbarroco. He has been invited to the Vancouver Early Music Festival, The International Baroque Institute at Longy School of Music of Bard College in Boston and at The Twin Cities Early Music Festival in Saint Paul, Minnesota. Recently he has been honored as the Lindsay and Garth Greimann Scholar and The Cambridge Homes Music Practitioner Scholar at The Longy School of Music of Bard College, also a member of Early Music America and the American Federation of Musicians.
He holds a B.M. from Brigham Young University-Idaho where he studied with Emma Rubinstein, a M.M. and G.P.D. from the Boston Conservatory at Berklee where he studied with Markus Placci. As well a candidate to receive a G.P.D in Historical Performance and Certified Music Practitioner 2020 from the Longy School of Music of Bard College where he studies with Dana Maiben.