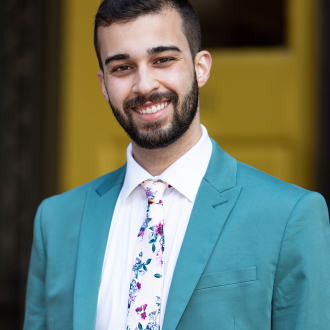 Inquire About Lessons
(He/him)
Brazilian-American countertenor Lucas Ludwig Coura is an accomplished performer and passionate educator. On stage, Lucas prides himself on giving sensitive and vulnerable performances in various genres including early music, contemporary music, choral works, and musical theatre. His standard operatic roles include Oberon (A Midsummer Night's Dream), Tolomeo (Giulio Cesare), and Endimione (La Calisto)–but he is also frequently called upon to interpret roles in new works by composers such as Gala Flagello, Byron Asher, and Paul Vasile.
This season, Lucas will appear as a member of Boston's Nightingale Vocal Ensemble in a staged production of Edgar Allen Poe's The Cask of Amontillado featuring music from Carlo Gesualdo's Sesto libro di Madrigali. For more information on Lucas' current and upcoming projects, visit www.lucasludwigcoura.com
In the studio, Lucas prioritizes creating a safe space for vocal experimentation. He invites students to explore a wide range of vocal sounds (especially "imperfect" or "ugly" sounds) in service of discovering free, uninhibited expression. His diverse methodology draws equally from historic treatises and modern scientific vocal study–all while keeping a focus on the student's complete development as a singer, artist, and individual.
Education/Training
B.M. Vocal performance and music theory, Stetson University
MM. Vocal performance with a concentration in vocal pedagogy, New England Conservatory of Music
Fun Facts
My go-to karaoke song is "Grace Kelly" by MIKA. I think he's a countertenor, too.
My dog is named Senesino (or Francesco Bernardi)–feel free to jump down a Wikipedia rabbit hole to see if you can find the joke in that.
I gave the commencement address for my graduating class. The speech? "Lessons I learned from Pokémon."