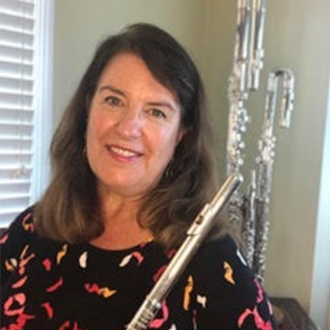 Inquire About Lessons
I teach students of all ages how to love playing the flute! Whether starting a beginner, encouraging an intermediate player, guiding the advanced player, or coaching chamber ensembles, I bring a wealth of performance experience and a depth of educational understanding to my teaching.
Ever since I first played flute as a 10-year old, I have adored this beautiful instrument and how much joy its lovely sound brings both the player and the listener. Passing that joy on to students of all ages is the focus of my teaching philosophy.
I have studied flute both here in the United States and in Austria with some of the finest teachers, earning my Masters of Music in Flute Performance and a Bachelor of Science in Music Education for K-12. I also have performed here in the US, in the Boston area, as well as in Europe and Asia, learning so much from culture exchanges around the world.
My passion is flute choirs and I have both performed and directed multi-flute ensembles including C flute, Alto flute, Bass, and Piccolo. It's great getting a big group of flutists together for the joy of playing and creating!