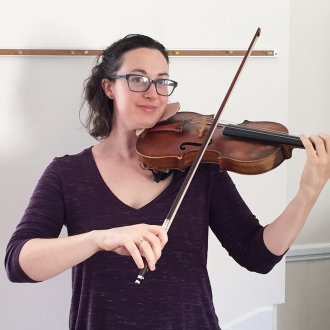 Robin Alfieri
Suzuki violin
Inquire About Lessons
Robin Alfieri currently teaches at Powers Music School, Massachusetts. She has had a passion for teaching and enjoys working with students of all ages since 2003.
As a member of the Suzuki Association of the Americas and the current Membership Secretary of the Suzuki Association of MA, she has completed registered training in Suzuki violin books 1-10 as well as Practicum and Suzuki Principals in Action. Professional development is something that she continues to pursue. She completed her long term Suzuki training during her Master of Music at Ithaca College and has a Bachelors in Music from University of Delaware.
Robin has performed numerous solo recitals. Select operas she has performed include La Boheme, Hansel and Gretel, and Carmen with the Boulder Symphony and the Boulder Opera Company. Tours include a faculty and student ensemble from Ithaca College performing Bach's Mass in B minor, the MENC National Conference, and Music Adventure in Tuscany.
Her teachers have included Sanford Reuning, Teri Einfeldt, Christie Felsing, Kimberly Meier-Sims, Nicholas DiEugenio, Xiang Gao, and Jaroslaw Lis.
She now resides in Maynard with her daughter, husband, and two cats. Interests include knitting, swimming, and cooking.