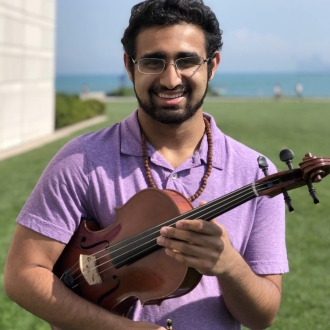 Sachin Shukla
Viola (SMMS)
Inquire About Lessons
Award-winning artist-scholar of the viola Sachin Shukla is based in Boston, MA. His competition awards include first place in the 2021 Northwestern Viola Prize as well as prizes from the Society of American Musicians and the Illinois ASTA. Festival appearances include the Bowdoin International Music Festival and as a recitalist and composer at the Cazenovia Counterpoint Festival, and has played in masterclasses for Steven Dann and Mimi Zweig, among others. His prize-winning article, "To Christabel: Exploring the Origins of William Walton's Viola Concerto," is forthcoming in the peer-reviewed Journal of the American Viola Society, after garnering first place in the 2021 David Dalton Research Competition.
Sachin studies at the New England Conservatory with Mai Motobuchi. He is a graduate of Northwestern University, where he studied with Helen Callus. He also studied violin and viola pedagogy there with Stacia Spencer, a disciple of renowned pedagogue Mimi Zweig. In addition to the Powers School, Sachin teaches with the Village Music School and performs with the Boston Philharmonic Orchestra.
In addition to his musical activities, Sachin is also a public policy enthusiast. He has served as a research assistant to noted labor economist Diane Schanzenbach and Ajay K. Mehrotra, Executive Director of the American Bar Foundation. At Northwestern, he also served on the executive board of the university's Political Union for three years, culminating in a term as co-president.