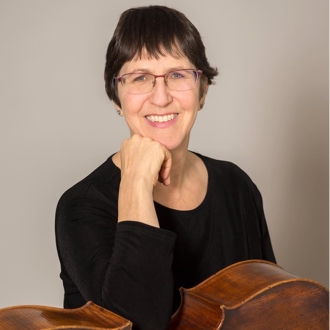 Sarah Freiberg
Co-Chair, String Department
Cello
Inquire About Lessons
Sarah is a tenured member of the Handel and Haydn Society and an active performer. She plays with Blue Hill Bach, Music at Eden's Edge and the Kennebec Early Music Festival. Other engagements have included Boston Baroque, San Francisco's Philharmonia Baroque Orchestra, the Boston Early Music Festival Orchestra and Portland (Oregon) Baroque.
She is a corresponding editor of and frequent contributor to STRINGS magazine.
Sarah's numerous recordings include solo sonatas by Guerini and Laurenti.
In addition to Powers, she teaches in the Historical Performance department at Boston University and has taught at the Amherst Early Music Festival, the Music Center of the Northwest in Seattle and the University of California-Davis and California State University-Fresno.
Fun Facts
I have a Puggle named Lilly – she has the softest ears. (She's half Pug, half Beagle.)
I can sing the alphabet backwards, raise each eyebrow separately, and whistle through my tongue – but not simultaneously.
I play baroque cello and viola da gamba – feel free to ask me about performing in style.