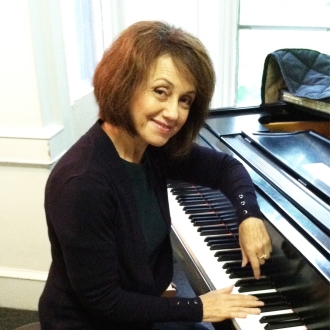 Inquire About Lessons
Tamara received her BA from Almaty College of Music and earned a Masters Degree in Performance and Pedagogy at Almaty Conservatory. After teaching piano performance and the principles of the Russian Piano School for twenty years at Almaty Conservatory of Music in Russia, Tamara brings her knowledge and guidance to her piano students at Powers.
Her teaching philosophy is one of deep responsibility to her students. Although she takes a serious, academic approach on a high professional level for those looking to prepare for competitions and performances, she also enjoys teaching students who simply wish to better understand music. Says Tamara, "Music is not just about how to move your fingers. History, theory, and structure of music are also important. I believe I have a mission to bring my students into the world of music, to teach them to express themselves, make them believe they are creative, and to use their imagination and skills. That's the greatest thing I can teach."
In addition to teaching at Powers, Tamara has previously taught at Indian Hill, performed a 6-hand piece with other Powers faculty at the New England Piano Teachers Association celebration, and has accompanied her students at the Annual Piano Performance Competition in Kazakstan as well as string players and vocalists.
"My two daughters, Karen (15 year old) and Julia (10 year old) have been learning piano from Ms. Tamara Medoyeva for 9 and 5 years respectively. Ms. Tamara Medoyeva is a very skillful and patient piano teacher. She designs the curriculum based on each child's level, personality, and ability. Even for my two daughters, they learned quite different pieces at the same age. Ms. Medoyeva inspires my two daughters by giving them the background of the music such as the stories of the composer, the meaning of the music, etc. She is very patient when my daughters are frustrated. She sometimes adjusts the content of the teaching based on their progress. Ms. Medoyeva also communicates with the parent (me here) well. She assigns homework of music listening to me so that we and the kids can listen the music the kids are playing, or related music by the same composer. I personally learned from Ms. Medoyeva and I'm now able to appreciate the music a lot more."
– Ruijuan Ruan, parent of Tamara's students Karen and Julia