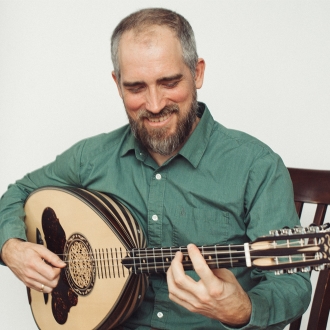 Tev Stevig
Guitar, ukulele, banjo, plucked strings
Inquire About Lessons
(He/him)
Tev Stevig teaches guitar, ukulele, banjo, lap steel, and other plucked string instruments to students of all ages and skill levels at Powers Music School. Tev believes the most important part of learning about music is to have fun. Private lessons and classes with Tev focus on learning how to trust our ears and developing an efficient, well-rounded daily practice routine that is custom-tailored to each individual student's needs, covering a few basic areas of musical development: Rhythm, Melody, Harmony, Technique, Repertoire, Improvisation, and Literacy. He also believes strongly in group music making as a complement to private instruction and currently leads the Ukulele Class at Powers. He received his Bachelor of Music degree in Jazz Guitar Performance from Berklee College of Music and has spent the last 20 years exploring a variety of Eastern modal music traditions from the Balkans, Greece, Turkey, Afghanistan, India, and beyond. His many engagements include performances/recordings with the Çeşni Trio, Ross Daly/Kelly Thoma Quartet, The Late Risers, Jeni Jol, Ivo & the Wave Wranglers, Mr. Ho's Orchestrotica, and Klezwoods with tours throughout the U.S. and Europe.
Photo credit: Meghan Ireland
Fun Facts
I perform on on over 15 different plucked string instruments from various music traditions from around the world. I often bring these instruments into Powers when I teach so I can share them with students.