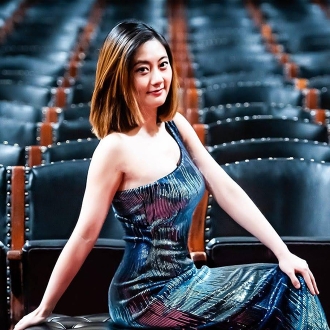 Inquire About Lessons
"She is a born performer… with brilliant techniques and poeticism"
– The New York Concert Review
" A Mighty Force with Magic Hands"
– The San Juan Daily Star
"Xuerong Zhao, brilliant pianist, crossed the world for piano…"
– The Berkshire Eagle
Despite her youth, Dr. (Kyra) Xuerong Zhao has already staked her claim as an internationally renowned performing artist. Her performances draw wide attention for their combination of technique, power, and lyricism held together by an undeniable sense of music. Ms. Zhao has received praise from famous critics and musicians alike, including legendary artist, Martha Argerich.
An active concert pianist, Ms. Zhao has performed as a soloist in many acclaimed concert halls and artistic centers around the world, including her debut solo recital in New York City's Carnegie Hall presented by Columbia Promotions alongside the New York Eastern Chamber Orchestra. Other highlights include performing in Lincoln Center, Seiji Ozawa Hall, Boston Symphony Orchestra, Koussevitzky Music Shed at Tanglewood, Natick Center for the Arts, Steinway Concert Halls of New York and Beijing, Horvitz Auditorium in Florida, Benaroya Hall in Seattle, the German and Polish Consulates of New York, Sprague Hall at Yale University, the Algonquin Club in Boston, the Tsai Performance Center in Boston, and the National Concert Halls of Beijing and Guangzhou. She has been invited to be a guest artist at the Music & More Festival, the Atlantic Music Festival, the Mannes Year-Long Festival, and the Lancaster International Piano Festival, among others. In 2018, she was designated a Young Steinway Artist by the Steinway Society of San Juan, Puerto Rico, an honor she greatly treasures.
Ms. Zhao has collaborated with some of the finest orchestras. Her concerto appearances include New York Claremont Chamber Symphony, Boston Orchestra Appassionata, Boston University Tanglewood Wind Ensembles, and Yale Symphony Orchestra.
Her dazzling performances in world and international competitions from an early age to the present reveal the persistence of Ms. Zhao's talent. Her list of prestigious awards includes top prizes at: "the 14th International Chopin Piano Competition" in Rome; "Five Towns International Piano Competition" in New York; Winner of the Mannes College School of Music Concerto Competition (after which she performed the Concerto No.2 in f minor, by Fryderyk Chopin); Bronze Medalist and Special Recognition for the "Best Performance of Chopin" at the "Third Seattle International Piano Competition"; and Grand Prize Winner at "The Richmond International Piano Competition" in Boston. Following her success at "the 14th International Chopin Piano Competition" in Rome, a DVD of her live recital concert was released by Tiantin Arts Publishing House in China.
As an educator, Ms. Zhao is passionate about teaching. She believes strongly in developing the next generation of young musicians and feels it is essential for students, regardless of age or level, to get pleasure from their musical training and that discipline must be combined with enjoyment and motivation. Ms. Zhao has worked as a teaching assistant both at Yale University School of Music and Boston University College of Fine Arts. She is currently a piano faculty member at New England Conservatory's Preparatory School and School of Continuing Education. She is also on the faculty at Powers Music School. Besides teaching, her work with students involves lecturing, masterclasses, judging competitions, and mentoring her own students to prepare them for the rigors of a career in music.
Ms. Zhao holds a BM and MM in Piano Performance from Mannes College of Music, an Artist Diploma in Piano from Yale University School of Music, and a D.M.A in Piano Performance from Boston University College of Fine Arts.