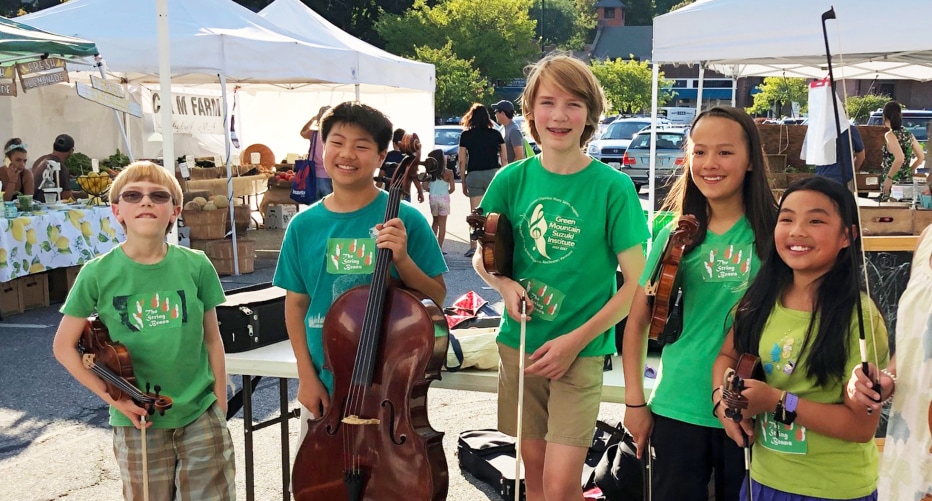 The Mortimer Family
"

The Suzuki program can really meet each kid where they are. There's just a vibrancy and a warmth to it. It's a real community.

"

Julie Mortimer, Suzuki parent
The Mortimers have been an integral part of the Powers community since 2013.
Brothers Gavin (3rd from the left in the photo) and Keaton (1st on the left) began in the Suzuki program learning the violin, and have gone on to participate in much of what Powers has to offer, including the Powers Youth Orchestra, Pow-Wow, Fiddling on the Hill, Suzuki on the Hill, music theory, and traditional private lessons.
Their mother Julie is a valued member of the Powers Board of Directors. She says when they first started at Powers, she was hoping for a program that was a good match for both of her sons.
"We were looking for a really good Suzuki teacher and program. We did a sample lesson with Sarah Bacon for both Gavin and Keaton and also met Guan-Tin Ku. After that, it was a super easy decision to come to Powers."
A program that meets you where you are…
"The Suzuki program can really meet each kid where they are. You see kids of all different interest levels, all different approaches, all different kinds of lives and backgrounds. It's just an incredibly diverse group of families and kids, and every one of them does the program differently. It's been a totally different experience for each of my two kids. It's been phenomenally good for both of them, but totally different.
The program has taught both of my kids how to learn. For each piece, you have to break it into smaller parts. You have to learn one line at a time. And that's exactly how you learn math, or science, or geography, or reading. You don't just know how everything fits together right away. Both boys have learned a lot from the way Sarah helps them to break down pieces.
Now that Gavin is older, Powers has been great because he can come to his lessons independently, and it gives him the opportunity to see friends. The location is walkable from both Chenery Middle School and Belmont High School."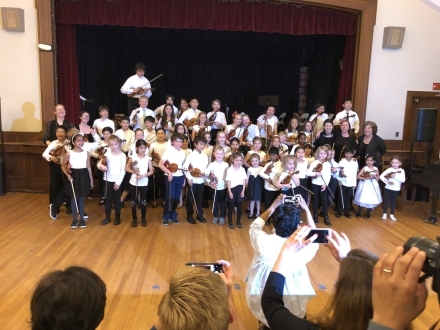 A strong community…
"The community aspect of Powers is wonderful. When you walk in, you hear all the practice rooms and you hear what's going on, and there's just a vibrancy and a warmth to it. It's a real community. Our whole family has valued the connections between kids, as well as parents.
In both Gavin and Keaton's group classes, there are students that have been together for 6 years or more, and they form wonderful friendships. Gavin switched schools a year ago and a lot of the kids that he already knew at his new school were kids he had gotten to be really good friends with through Powers.
There's a lot of closeness between the teachers and the kids so they know how to make the experience a good one for you. They really get to know you."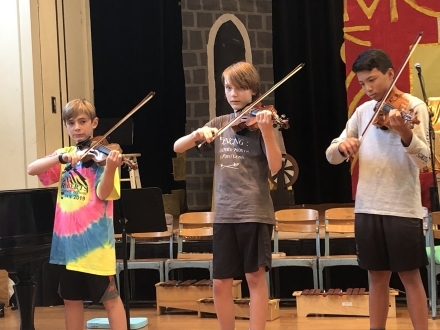 Says Gavin about his experience at Powers…
"If you're committed to actually learning an instrument and practicing, it would be a good program. It's not super stressful. And the teachers are really nice.
You meet other people who are also at a similar level, and then it's more fun because you have friends you can talk to. Having other friends there makes me succeed, because you want to do it, you're inspired to progress.
If you're invested in music and you want to know other kids that do it and be part of a bigger music community, it would be a great fit."