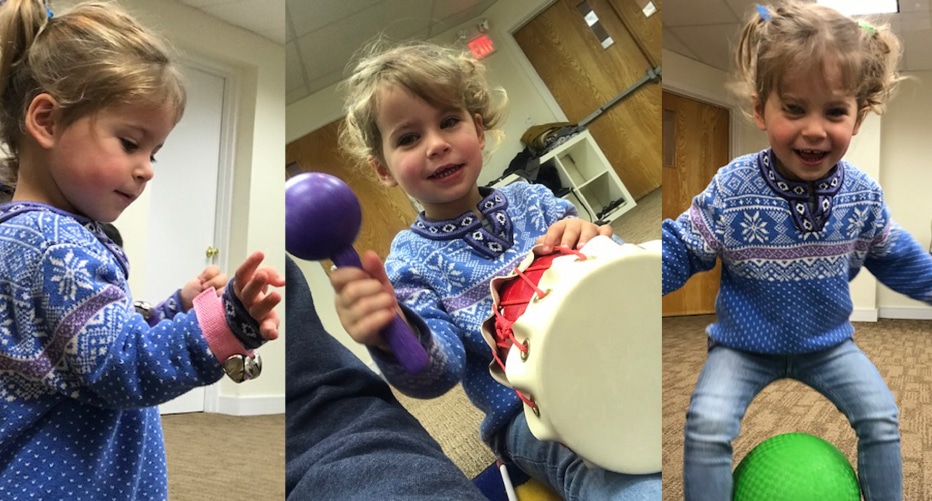 The O'Hanlon Family
"

Sometimes after her nap or before bed time when she is winding down I hear her singing songs from music class and doing the motions she knows.  Not only is it one of the cutest things you will ever see, it's also nice to know she genuinely enjoys music.

"

Lauren O'Hanlon, Music Pups® parent
Lauren O'Hanlon knows a thing or two about the Music Pups® program. Her daughter Olivia, almost age 3, has been in Pups for two years, and little sister Sophia, 8 months, just started enjoying class too. We asked Lauren why she and her daughters love coming to class, and what advice she has for other parents.
"Music has always been important to our family and I wanted to expose Olivia to some sort of structured music class early on.  I then asked around to other moms in the area and heard great things.  We've been having fun at Music Pups ever since!
Olivia loves class. She mimics the songs and dances all week. She talks about Miss Jennifer and we sing songs from music class at least once a day. When I see she needs a little smile, I sing one of the songs from class and she typically brightens up.
I love being able to sing the songs with her. It's a way for us to bond together even though I only attend once a month or so (the rest of the time she goes with her caregiver).
While it may not be obvious at first, the children are absorbing everything about class. It's a wonderful structured environment for you or your caregiver and your child to have a platform to learn about music, rhythm, and most importantly, having fun with some singing and dancing!  It's another fun tool for their developmental toolbox.
The structure and routine of class helps the kids enjoy the music even more because they don't have to be nervous about what's going to happen next.  They know the first welcome song, which relaxes them, and while they may not know exactly which songs are part of this week's class, they know it will be fun, and they know they will end with relaxing music at the end.
Sometimes after her nap or before bed time when she is winding down I hear her singing songs from music class and doing the motions she knows.  Not only is it one of the cutest things you will ever see, it's also nice to know she genuinely enjoys music."