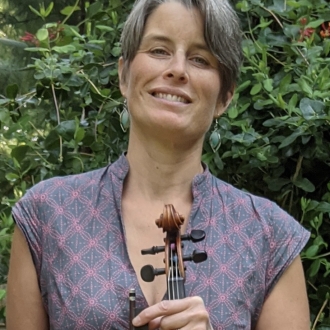 Ellery Klein
String Traditions Artistic Director, 2ND FRIDAYS IRISH SESSION LEADER
Fiddle, violin, Creative Ability Development
Inquire About Lessons
(She/they)
Ellery Klein has performed as an Irish fiddler for almost thirty years, after an early formation in classical music.
Ellery aims to teach "to the individual" – finding what works, what motivates, and what brings joy to each person in her studio. Ellery encourages technical excellence while also teaching perseverance and confidence. Ellery makes sure her students build the ability to feel okay with mistakes, laugh, and be compassionate towards themselves. Her goal is to enable holistic musicians that are able to listen, learn, create, and collaborate with others for a future lifetime of music – whether in community, or professionally.
Most of Ellery's students begin with the online, interactive curriculum Fiddlequest, and continue on with a mix of fiddle tunes played in Boston's various fiddle music communities, and tunes selected to offer greater technical challenges. Ellery makes sure her students are equally able to read music and learn by ear, explore chord charts and harmony, and loves to work with students also interested in studying classical repertoire.
Ellery has been at Powers since 2013 and is the director of Powers' summer fiddle day program, String Traditions. In January 2023, she launched Powers' Second Fridays all-ages Irish Music Session, where anyone is welcome to join, learn a tune, and play the Irish melodies they know.
More information about Ellery and her teaching can be found at www.elleryklein.net. She has taught workshops and lessons in the US, Ireland, Bermuda, and Japan; at Boston's Comhaltas Ceoltóirí Éireann music school, and the annual Fiddle Hell gathering in Westford. She also maintains a violin and fiddle studio at her home in Medford.
Ellery graduated with a major in instrumental music from Cincinnati's public magnet School for Creative and Performing Arts in 1992. She received an MA in Irish Traditional Music Performance from the University of Limerick in 2001. She is trained in Alice Kanack's Creative Ability Development method, Mark O'Connor Method Books I & II, and Music Together. She toured nationally with the Irish supergroup Gaelic Storm from 2003-2007. In 2015, she performed the Celtic solo for Nickitas Demos' "Long Journey Home, Double Concerto for Celtic Fiddler and Bluegrass Fiddler" with the Lake Superior Chamber Orchestra. She performs across New England with the fiddle, flute, and guitar trio Fódhla and nationally with the three-fiddle Celtic powerhouse group, The Bow Tides, whose debut album, Sailing On, was released in 2022.
Ellery also is a parent of two teens, and when not teaching, can be found shuttling these two musicians to violin, piano, orchestra, and choir.