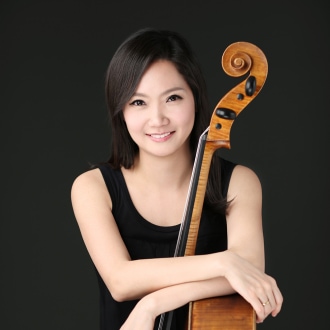 Hyun Min Lee
Director of Chamber Music
Cello
Inquire About Lessons
Cellist Hyun Min Lee has appeared in recitals, concerts, festivals, and master classes throughout the United States, Germany, Canada, Japan, China, and her native Korea as a soloist, chamber musician, and ensemble player in major venues including Carnegie Hall, Leipzig Gewandhaus, Boston Tsai Performance Center, and Seoul Arts Center. Dr. Lee began her musical training in Korea at the age of seven. She has won numerous domestic and international awards and prizes, including top prizes from the Korea Times and Munhwa Times competitions, "Je-Myung Hyun" String Foundation Scholarship, and the German Academic Exchange Service [DAAD] scholarship in Germany. During her doctoral studies, she was awarded the String Department Honors for outstanding Achievement in String Performance and was inducted into Pi Kappa Lambda, the National Music Honor Society of the United States.
As an active soloist and chamber musician, her performances have been broadcast on FM WCLV and FM WMNR in the United States. She has been a soloist with the Cleveland Institute of Music Orchestra, Boston University Symphony Orchestra, and New England Repertory Orchestra. She is the Artistic Director of the Boston Cello Ensemble since 2017, and also a member of the Hubbard Quartet, the innovating Oboe quartet. She has served as principal cellist for the Sebastian Chamber Players, The Cleveland Institute of Music Orchestra, Yale Philharmonia, The Yale Cellos, Boston University Symphony and Chamber Orchestra, and was also a section member of the Canton Symphony Orchestra and Eastern Connecticut Symphony Orchestra.
As a passionate teacher, Dr. Lee has been teaching at the Boston University Tanglewood Institute since 2010 and taught string instrument class and non-major cello lessons and chamber music at Boston University. She was a teaching assistant to the legendary cello pedagogue, Professor Aldo Parisot of Yale School of Music, at the Great Mountains Music Festival and School and also to Professor Marc Johnson at Boston University. She is currently on faculty at Powers Music School and Concord Community Music School and also a former faculty member of the Bay Chamber Music School and the Youth & Muse Boston International Summer Music Festival.
Dr. Lee received her Master's degree and Artist Diploma with full scholarship under the tutelage of Aldo Parisot from Yale University, the School of Music. She also holds a Bachelor's degree from Seoul National University as well as a Professional Studies Diploma from the Cleveland Institute of Music, where she studied with Stephen Geber, a former principal cellist of the Cleveland Orchestra. She earned her Doctor of Musical Arts degree from Boston University, where she studied with Marc Johnson of the prestigious Vermeer Quartet. Her other former teachers, coaches, and mentors include Peter Salaff, Christian Giger, Ani Kavafian, Stephen Clapp, Young-Sook Yoon, Hee-duk Lee, Alan Gilbert, and members of the Tokyo, Leipzig, Takácks, Orion, Juilliard, Cavani, and Muir String Quartets.