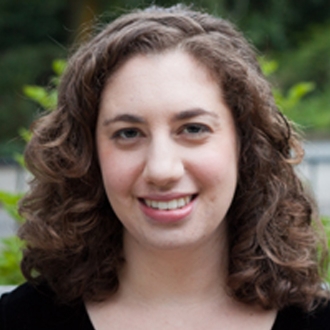 Rebecca Sacks
Music theory & composition
Inquire About Lessons
Rebecca Sacks is a Boston-based composer and piano teacher. Rebecca completed an MFA in Composition and Music Theory from Brandeis University, and she graduated from Tufts University with a BA in Music. Since 2008, Rebecca has taught private lessons in jazz and classical piano, music theory and composition. She also taught music theory, composition, and choral singing in Tufts University's Community Music Program, and private piano lessons in Brimmer and May School's After-School Music Program. Since January 2019, Rebecca has studied music theory (solfège, dictations, and 4-part harmony writing) with Judith Ross, who taught music theory at the Longy School of Music for 37 years, and whose innovative teaching methods Rebecca has adopted in her classes at Powers. While at Brandeis, Rebecca studied music theory with Yu-Hui Chang and Martin Boykan (emeritus professor), and she studied composition with Chang, Boykan, Eric Chasalow, and Melinda Wagner. As an undergraduate at Tufts, Rebecca studied music theory with Janet Schmalfeldt, composition with John McDonald, and West African music with David Locke.
Rebecca has a background in piano (classical and jazz), choral singing, jazz voice, and West African music of the Ewe tribe (of Ghana and Togo). From 2006-2008, she was a member of the Agbekor Society, and she sang the lead part during their performances of Agbadza.
Rebecca's training included participation in the European American Musical Alliance Summer Composition Program at the Schola Cantorum in Paris, where she studied counterpoint, harmony, and analysis in the tradition of Nadia Boulanger. While at Tufts, Rebecca received the Etta and Harry Winokur Award for Outstanding Achievement in Artistic or Scholarly Work from their Music Department. In 2007, she was a finalist at the Ithaca College Choral Composition Festival for her composition "The Mirror," which was performed the previous year in Spain by the Tufts Chamber Singers. Rebecca's compositions have been described as having "hauntingly beautiful chord combinations" (The Tufts Daily).
Her compositions have been performed by the Talea Ensemble, the Talujon Percussion Group, members of the Radnofsky Saxophone Quartet, the University of Alabama's Percussion Ensemble (under Tim Feeney), members of the Genkin Philharmonic, the Tufts University Chamber Singers, and the Tufts University Concert Choir (under both Andrew Clark and Jamie Kirsch), Tufts' West African Percussion Ensemble, the Mockingbird Trio, and the Cantata Singers of Elmira, NY, as well as other freelance musicians in the Boston area. Rebecca's solo piano piece "One at a Time" is included on Thomas Stumpf's 2017 CD with Albany Records entitled "Reflections on Time and Mortality." Rebecca's "Songs for the Earth" (2019) was recently performed by Tufts University's combined choruses, piano, and percussion, and it features settings of poems with themes of the environment and climate change.