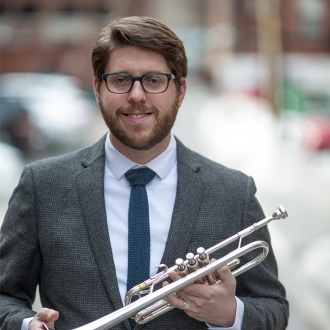 Ryan Noe
Director of Chamber Ensembles
trumpet
Inquire About Lessons
Listen to Ryan's story on Belmont Media Podcast Network's "Power of Music," episode 5
Dr. Ryan Noe is a freelance trumpeter throughout New England. Currently, he holds the position of Principal Trumpet for the Glens Falls Symphony as well as Third Trumpet for the Cape Ann Symphony. He is a member of the Fenway Quintet, and also is a founding member of Andromeda Quintet. He has performed throughout New England with groups such as the Boston Pops!, Portland Symphony, Lexington Symphony, Cape Symphony, Symphony Nova, New Bedford Symphony, Boston Chamber Orchestra, Alea III: Contemporary Music Ensemble, Monadnock Wind Ensemble, New England Brass Band, Harvard Bach Society Orchestra, MetroWest Opera Company, Boston Opera Collaborative, and the Commonwealth Lyric Theater. Nationally, he has performed as a part of the Castleton Festival Orchestra in Virginia,
and the Ohio Light Opera.
As a recording artist, he can be heard on Vivat Regina! The Choir of the Church of the Redeemer as trumpet soloist for Ralph Vaughn Williams' The Old Hundredth Psalm Tune and also the soundtrack to the Japanese crime show Connate Investigation, recorded by the Boston Chamber Orchestra. Dr. Noe was a Semi-Finalist for the National Trumpet Competition in both the Graduate Solo Division and Trumpet Ensemble Division in Fairfax, VA. He moved to Boston, MA in 2009 when he began his Master of Music degree from Boston University. He continued with his Doctor of Musical Arts at Boston University completing it in 2015. While at Boston University he has studied with Terry Everson, Thomas Siders, and Peter Chapman. Prior to moving to Boston, Dr. Noe lived in Kalamazoo, MI where he completed his Bachelor of Music degree from Western Michigan University. At WMU he studied with Scott Thornburg and double majored in Trumpet Performance and Music Education. While living in Kalamazoo he was Principal Trumpet of the Kalamazoo Philharmonia. Also during his undergraduate career, his Brass Quintet was selected to be the student artists in residence at the Bay View Music Festival in Bay View, MI. While at Bay View he also performed with the faculty brass quintet of the festival the Bay View Brass and the Bay View Symphony.
Dr. Noe along with being an active performer and arranger is also an in-demand brass pedagogue. Recently he has been appointed to the position of Adjunct Brass Instructor for Northern Essex Community College. He also has been the Adjunct Instructor of High Brass for Northeastern University since 2012. Formerly, Dr. Noe was a brass chamber music assistant and the non-music major trumpet instructor at Boston University and trumpet workshop assistant for Boston University Tanglewood Institute.
Ryan is originally from Plymouth, MI, and currently lives in Boston, MA with his wife Kaitlin and their two cats Ripley and Till Eulenspiegel.