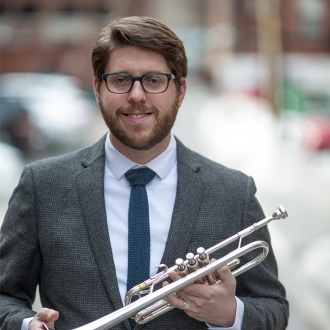 Inquire About Lessons
(He/him)
Listen to Ryan's story on Belmont Media Podcast Network's "Power of Music," episode 5
Hailed for his "impressive stylistic fluidity," Dr. Ryan Noe is an active freelancer throughout the
Northeast United States and currently holds the position of Principal Trumpet for the Glens Falls
Symphony and Second Trumpet with the Cape Ann Symphony. As a chamber musician, Dr. Noe
is a member of the Andromeda Quintet and the Fenway Quintet and has also performed with the
Boston University Faculty Brass Quintet, the Bay View Brass, Bala Chamber Brass, and the
Western Brass Quintet. As an orchestral musician, he has performed with groups such as the
Boston Pops!, Vermont Symphony Orchestra, Portland Symphony Orchestra, Enigma Opera,
Symphony New Hampshire, Cape Symphony, Plymouth Philharmonic, New Bedford Symphony,
Lexington Symphony, and the Commonwealth Lyric Theater. He has performed for such
dignitaries as William and Catherine, Prince and Princess of Wales. An advocate for new music
he has performed with Alea III: Contemporary Music Ensemble, Bang on a Can, and has recently
premiered works by Gunther Schuller and Jennifer Higdon. He has worked with renowned
conductors such as Lorin Maazel, Gunther Schuller, Rafael Payare, and Keith Lockhart. As a
soloist, he has soloed in front of the Glens Falls Symphony Orchestra, Plymouth Philharmonic,
Cape Ann Symphony, Plymouth Community Band, and Ohio Light Opera Orchestra. Along with
his quintet, Andromeda Quintet, he has presented at the International Women's Brass Conference
and for the College Music Society. In addition to teaching at Powers School of Music, Dr. Noe is the
Artist Faculty in Trumpet for the University of Southern Maine and Associate Lecturer of Trumpet at
The University of Massachusetts-Boston. Dr. Noe is originally from Plymouth, Michigan and
currently resides in Littleton, Massachusetts with his wife, son, and 2 cats.